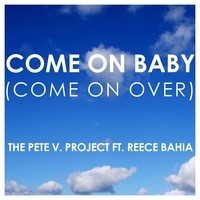 Marie Virginie Pierre has a new single, Come on Baby (Come on Over) released on her new record label, Pierreplay Records. It was produced and written by Marie, featuring the amazing talent, Reece Bahia. This poppy number displays Marie's versatility and the plethora of talent known as the Pete V Project.
Reece Bahia executes the song with absolute perfection. It has a dance, beach reggaeton vibe that immediately picks your mood up and has you soaring with delight. It is a non stop smiling experience with catchy beats and toe tapping melodies. He reminds me of a young Bruno Mars and attacks the composition with the same type of vivaciousness. The song gives off a sense of happiness that creates an unavoidable smile.
"Come on Baby (come on over) ft. Reece Bahia"
https://www.youtube.com/watch?v=R3zAFsfWzUA
Produced by Pierre, she is able to execute her vision of art to a fine tuned piece of work. She had several publishing deals and felt those opportunities were not living to her fullest potential. So now, the best way to get top priority treatment is to do it yourself, which is exactly what she is doing with better end results.
The Pete V Project is a collective intellectual work of art created by Marie Virginie Pierre. Come on Baby (Come on Over) featuring Reece Bahia is a strong radio friendly pop number that will be dancing its way into all our hearts. This is the beginning of a great career for this young lady and I wish her all the best. Keep recording and I'll keep smiling and listening.
I rate this 5 out 5
https://www.facebook.com/thepetevproject
Rebecca Hosking – www.rebeccahosking.com – hoskingrebecca@gmail.com