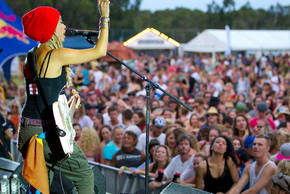 For decades, attending music festivals has been one of the best ways to cap of a great summer. This year, the crowds saw the emergence of Prince, the reunion of Outkast, and 2014 Emmy nominee Bruno Mars' electrifying performance. Every year, most of these highly anticipated jam fests are packed with new and seasoned festival goers. The average festival generally spans an entire weekend, while others last longer than your typical cruise trip. With so many genres being represented, everyone's musical palate was satisfyingly whet. The following are few events that seized a large swath of devoted fans' time and attention.
Essence Music Fest
New Orleans has played host to this "party with a purpose" since 1995. However, one of this year's biggest highlights came from the performance and presence of the Purple One – Prince, and our royal purpleness reigned. Aside from his own set, Prince popped up to lend a guitar-playing hand to Janelle Monae for her rendition of his hit "Let's Go Crazy." He also spent time with Chic's Nile Rodgers, treating fans to their version of David Bowie's 1983 classic "Let's Dance." Mary J. Blige, Lionel Richie, and Jill Scott also took to the stage in the Crescent City.
Bonnaroo
The Bonnaroo or "Roo" as it is affectionately sometimes called was a packed event held on campgrounds outside of Manchester, TN. Bonnaroo attracted over 100,000 people to its 700 plus acres of farmland. Ticket holders were mesmerized by a lineup of old school and next generation of musicians. This year, none other than Sir Elton John closed out the festivities. The legendary British rocker announced that this was his first American festival.
Coachella
What had Lana Del Rey, Nas, Beck, Pharrell Williams, Outkast, Bryan Ferry, Queens of the Stone Age, and loads of fun? The Coachella Valley Music and Arts Festival. This six-stage, California festival showcased a slew of well-known recording artists as well as up and coming musicians. If by chance all hotels are booked, there is the option to set up camp at one of the nearby camp sites.
Lollapalooza
After the ATL's rap duo Outkast tore it up at Coachella, Andre 3000 and Big Boi brought the Dirty South to Chi-Town. Lollapalooza has a tendency to attract some of the biggest names in the music biz and this year continued to live up to its reputation. The three day event featured Eminem, Kings of Leon, Iggy Azalea, Arctic Monkeys, and a long line-up of other fan-favorite artists. Eminem upped the star power by bringing on surprise guest Rihanna. Another great thing is a lot of the BCMI Mgmt Hinton hotels are within walking distance and transportation is easy to access for this event.
South by Southwest (SXSW)
This huge Austin, TX event is a big draw for established musical performers and aspiring artists. The SXSW festival/conference is different because this is the place where thousands of music industry representatives will be in attendance. Like Coachella, SXSW is held during the spring season, serving as an appetizer for those summer music fest. There were many breakout bands at this year's festival that left lasting impressions. Desert Noise, Lukas Nelson and the Promise of the Real are just two groups to be on the lookout for.
Many die-hard festival goers believe no summer is complete without having sampled the sights and sounds of a good music festival. The experience brings warm smiles and sweet memories, and gives one something to look forward to next year when those cold winter months come calling.