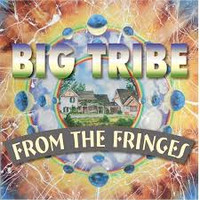 With some help from us (Bonnie, Dave, Joe, Liz, Michael, Peter) are The Fabulous Neptones, the core of Big Tribe – Panyon crafts a sweet non-glossy LP that reminded me of a low-fi Traveling Wilburys at times. "From the Fringes" sets the stage with his quirky vocal delivery and Harrison-like guitar. Most songwriters discover songs at time can just fly out, with moments of sheer inspiration for both the composer and the listener. Hence that's the therapeutic reason why we write music in the first place.
The songwriting on "From the Fringes" aims to promote more positive messages than is common in rock these days while not holding back emotionally of spiritually thus reducing the songs to a sanitized version. Within these funny-deep lyrics from Panyon I get the impression Big Tribe could reach out to multitudes with great meaning. The lyrics and carefree vibe music touched me and were written for that listener that may be going through a sort of soul's journey. To the right and left of him evil – yet ho forges his path through the darkness. This is how I visualized the album. Every song also has a different dynamic, which helps it all from sounding repetitive. It's also filled with powerful synergy and topics that are relatable – poking sarcastic fun. Track 1 "The Apples and the Mango" is a real attention grabber and spiritual wake up call. Panyon is a rock solid vocalist, musician and arranger. While being emotional he pulls out all the stops backed up with the rock solid musicianship, impressive writing skills. Above all you can hear the strong emotion vocal front as he takes on these at times powerful messages head on. My top 3 tracks are "Boogiewoogie John", "Home Beyond the Sky" And You Bonnie Me Clyde". I could be wrong but "From the Fringes" is testament to strong will power, strength, courage and having a strong resolve – but laughing at life as well. Indeed many of these traits are possessed by many people along the east coast and many of these traits are needed by many people around the world. Music reminded me of Mudcrutch, Nick Lowe, The Replacements, Graham Parker and at times even The Barenaked Ladies.
Some listeners want to experience music that is quirky, angry, eccentric, thoughtful boastful, loud, reckless, destructive, shallow, indulgent whatever. To me this reflects the culture. The music of Big Tribe takes music a step further. Its obvious Panyon knows a lot about life as a casual observer. He no doubt has many life experiences good and bad to bring to the table as a songwriter, producer. This greatly enhances the depth of listening experience for me personally – songs with substance. It's a real breath of fresh air to hear messages that have more substance than what is presently on my radio.
Purchase Link: https://itunes.apple.com/gh/album/from-the-fringes/id859745406
URL: http://www.bigtribemusic.com/
3/5 Stars
Keith Barker