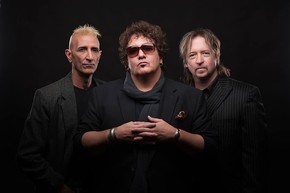 Electric Revolution is an Original Hard Rock Power Trio from Wisconsin. They are: Steve Crucianelli – Bass guitar, Vocals Joe Gajan – Guitar Billie Pulera – Drums, Vocals. Based in Kenosha, WI, As the band says: "Prepare for the revolution… the Electric Revolution!"
This group of experienced and very talented musicians delivers that great Wisconsin rock sound that keeps Midwesterners warm when it's cold outside and keeps them coming back for more. They are booked all over Wisconsin and have played to huge crowds at "Summerfest" in Milwaukee and all around the Chicago area. They have just released a new song "In the End" that you can hear on their website at electric revolution.net. Their strong vocals and solid guitar and drum work are a pleasure to listen to and it is clear that they have brought back to life the great hard rock from the 70's and 80's and given it a fresh current twist.
How would you classify your music?
I would say our genre is blues based 70's flavored hard rock, classic hard rock of the new age.
Who are your greatest inspirations?
I would have to say the hard rock music and groups from the late 60's and 70's , artists like Mountain, Hendrix, Cream, Grand funk Railroad, Deep Purple, Robin Trower , Led Zeppelin, Montrose etc. and actually the resurgence of the genre with The Winery Dogs, Rival Sons, California Breed with Glenn Hughes and Jason Bonham give us inspiration as well.
Tell me about your current projects:
We are in working on completing a full length album to follow our 6 song EP "Electric Revolution" that was released Feb. 2014 . The album should be completed late winter. 2015 should be a very positive year for the group, with completion of the album and tour to follow !
What we want listeners to get out of your music?
We want listeners to feel the passion and emotion we feel. Our music is based on human emotion, thought, life experience, over coming the negative, we are a band of the people, this music is who we are, the love of the art is what drives us.
http://www.electricrevolution.net
Diana Olson – diolson05@yahoo.com