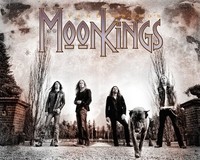 This Dutch group is made up of former Whitesnake guitarist and songwriter Adrian Vandenberg, Jan Hoving on vocals, Sem Christoffel on bass, and Mart Nijen Es on drums.
Jan has a Robert Plant quality with the range and delivery that fits the songs here. The vocal duties would have also been right in Sammy Hagar's wheelhouse. Lust And Lies is a quick paced rocker with some tricky shredding, as is Steal Away. Line Of Fire and Leeches are both heavier rockers. Close To You has a definite Led Zep feel and guitar work in it. Nice to hear something similar, yet different. Sailing Ships is a ballad that features former Whitesnake singer David Coverdale. Breathing is another good ballad, with an anthem type chorus quality. Out Of Reach is a nice ballad that fits the singer and the band.
This release is a nice trip down the road to the fork where 70's rock and metal connect. This material is for the most part hard edged, with some smoother ballad bumps, and some nice guitar work. There is a nice mixture of the pace of the material. We can use a four-piece power group just about now. Give it a listen!
By R.M. Engelman