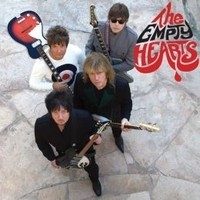 The Empty Hearts are another super group of sorts, where successful members of past bands (The Cars, Blondie, The Romantics and The Chesterfield Kings) get together to collaborate. This group is made up of Elliot Easton (Cars) on lead guitar, Rock and Roll Hall of Fame member Clem Burke (Blondie) on drums, Wally Palmar (Romantics) on vocals, harmonica and guitar and Andy Babiuk (Chesterfield Kings) on bass. The release is co-produced by the band and Ed Stasium, and also includes the Faces' Hall of Fame keyboardist Ian McLagan (Faces) on Hammond organ and Wurlitzer electric piano. Evidently the Empty Hearts name was borrowed from Little Steven and his secret list of "Cool" neglected/unused band names.
This disc reflects the sounds generated by the members prior respective bands, along with other influences like Todd, Raspberries, Tom Petty, Traveling Wilbury's etc. It's funny to note, these aforementioned bands were influenced by the same groups as The Empty Hearts. As they advertise, the material covers the styles of 50's U.S. rock 'n' roll, 60's British invasion and 70s garage-punk genres. The ironic thing is that the bands these four guys came from had a lot of sound and delivery similarities. Perfect World has the feel of 60's garage bands (where most of these guys started out). Soul Deep (not the Box Tops original) and Drop Me Off At Home have that early Cleveland sound that the Raspberries or Choir would have presented (you can envision Wally Bryson playing the riffs). Just A Little Too Hard falls into the same category, where the local bands in the 60's were trying to sound English paying homage to groups like The Who. I Don't Want Your Love has a Sgt. Peppers feel to it. Fill An Empty Heart has a definite Romantic's vibe going on.
The common thread, is that these guys are relatively the same age, growing up in the early rock "Garden" thus the common influences. Everything being said, this release is different than a lot of the recycled stuff that's circulating now, and is sort of cool to listen to. Go for it!
https://www.facebook.com/Theemptyheartsband
By R.M. Engelman