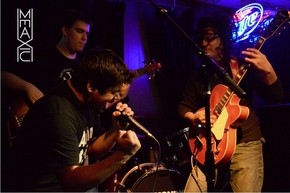 Meaxic is a New York-based Progressive Rock/Metal band formed by Jeet Suresh Paul. Jeet started writing music around 2008 and has slowly developed his style and technique. Taking influences from bands like Metallica and Alter Bridge, he loves to combine thrashy riffs with melodic vocal lines. Recently, Jeet has drawn influences from Periphery, Tesseract and other progressive bands. Sudeip Ghosh is the lead guitarist of Meaxic and Nick Johnson will be playing bass. Denis Macabre is the drummer and has been playing for nearly 20 years.
Meaxic has been rocking clubs in Manhattan, Queens and Brooklyn and they have an EP coming out in early 2015. They'll be performing with Saving Abel, http://www.savingabel.com on September 6 at Blackthorn 51, in the Elmhurst section of Queens, New York.
Do yourself a favor and check out Meaxic. These guys really know how to rock!
http://www.meaxic.com
https://www.facebook.com/Meaxic
https://twitter.com/Meaxic