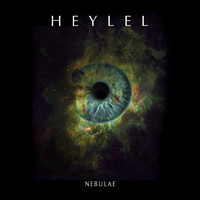 Heylel's "Nebulae" shows the evolution of progressive rock. With a well-placed King Crimson cover thrown into the mix (I Talk to the Wind) Heylel displays progressive rock influences and progressive rock's future. Ana Batista's vocals appear to be the unifying force throughout the collection. Such a strong distinctive voice helps to bond the many different approaches Heylel takes. By employing a sense of storytelling on the album Heylel is able to create a compelling collection.
Stream "Nebulae" in full at Soundcloud:
https://soundcloud.com/heylelband/sets/nebulae
"An Interstellar Cloud: The Prophet" brashly opens up the collection with plenty of energy. The final moments of the song are particularly sweet. On "An Interstellar Cloud: Watcher of the Light" Heylel turn this formula around with much of the song building up slowly into a post-rock like crescendo at the end, making it one of the most memorable pieces. Things quiet down significantly for the acoustic "A Newborn Star: The Sage". Here with all of the effects removed Ana Batista's voice shines through, as does the delicate guitar work. A bit melancholy this melancholy feeling continues into the lush "Red Giant: Deeper" which is one highlights of the collection. The aforementioned "I Talk to the Wind" brings the full band back together letting their King Crimson cover gain additional poignancy.
"The Prophet" at Youtube:
http://youtu.be/bKRWiFy7O4c
For the final stretch of the album Heylel moves towards aggressive textures like on "White Dwarf/Black Dwarf: The Great Abstinence". "White Dwarf/Black Dwarf: Embrace the Darkness" ends the collection off on a rather cryptic note complete with organ swells. "Nebulae" is a diverse collection full of heart.
By Beach Sloth