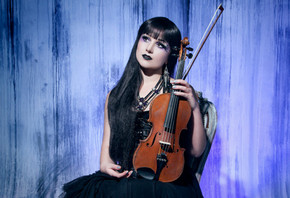 Melbourne based neo-gothic, rock singer Elodie Adams has announced the release of her debut single, Born To Love You (out August 15) lifted from her debut EP, inSUBORDINATE, set for release on August 22. Elodie will be launching the EP at The Tote in Melbourne on Thursday August 28th.
A remix of Born To Love You has been hand picked by Video Game luminary, Lorne Lanning as the new theme song for his internationally acclaimed and best selling PlayStation game, Oddworld: New 'n' Tasty; quite a feat for a young artist on their debut.
It was a simple Facebook message sent to the team at Oddworld that resulted in Born To Love You being chosen for Oddworld: New 'n' Tasty. "Stumbling across the hidden talents of Elodie Adams was such an amazing and exciting discovery for us here at Oddworld… we're thrilled to be showcasing this new Australian artist on a global platform and are looking forward to watching her star rise," explains Oddworld co-founder, Lorne Lanning.