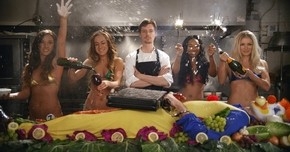 Edward Korft became the first artist to feature bikini models in a music video with his release of the music video for "I Don't Really Give A Fuck."  Directed by James Blose and shot by a small team over a weekend in New York, the video combines twisted humor, fine dining, and pretty girls in sexy sportswear.  "Putting scantily-clad women in a music video I think is going to revolutionize the way people consume music in the future" Edward Korft said.
Video Link:
https://www.youtube.com/watch?v=STwAdLvTijc
Through waves of dance, awkwardly blunt lyrics, and sincerity buried under so many layers of bitter irony and sarcasm as to be almost completely imperceptible, "The Formula Works! The Formula Works!!" is the perfect audible product to placate a modern audience.