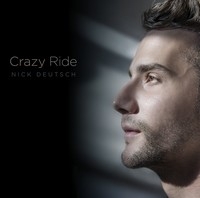 As Nick Deutsch's Crazy Ride  EP opens with 'Run', it's immediately clear that he's a capable songwriter and musician. The track borrows a whole host of contemporary stylings that could easily be found in the music of James Blunt and Owl City. It's on the chorus, however, that the song really shines; soaring high with its delay infused pianos creating a sense of faith and hope.
"Crazy Ride"
https://soundcloud.com/nickdeutschmusic/02-20crazy-20ride
'Green Light' continues in a similar pattern, following the Roxette formula of getting to the chorus as quickly as possible; "See a green light / No turning back, no turning back." It's a jubilant piece of music that has the courage to use notes that might not be expected to create a more inventive melody.
Featuring American X Factor finalist Marissa Pontecorvo, 'The Static' is a darker, more brooding track. As a duet it showcases the two vocalists well, their voices well matched and complementing each other well as they join in on the chorus.
Closing with 'Crazy Ride' the EP draws to a close with a slow burner of a track. Soft vocals over a gentle piano, which burst into life as the drums kick in like fireworks lighting up the sky on a cold night. The falsetto on the chorus is admirable, adding a spirited flourish to the song, which closes Crazy Ride triumphantly.
http://www.reverbnation.com/nickdeutsch
http://www.nickdeutschmusic.com
By Chris Marsh