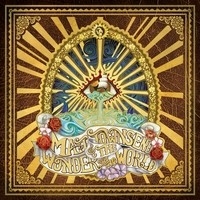 Taking the classic sounds of Bob Dylan and wrapping them up in a country/americana shell, Matt Townsend's latest release is overflowing with summery vibes, good feelings, and great tunes.
If the lap steel and hammond organ on 'Carry On' don't grab you, then there's little hope for you. If, however, you find that this is what you're looking for, you're going to be in for a real treat. Townsend's vocals soar at points, while at others they crack to give some authentic gravel to his tone.
Music video links:
"Desire Like a Lion" – https://www.youtube.com/watch?v=0oO_QQi-ubo
"Gratitude in Being" – http://vimeo.com/92174637
Did I mention the harmonicas? Obviously music of this sort requires it as standard, and it's certainly here, coming in at all the right moments to create that emotional pull that the instrument does so well. The more wistful 'Wind Without The Rain' puts a single violin to good use, forming a beautiful folk song that is deeply sad while hopeful at the same time.
The new self-titled album is streaming in full at:
https://soundcloud.com/matttownsendmusic/sets/matt-townsend-and-the-wonder-of-the-world
The more stripped back moments on the album are particularly memorable – 'Desire Like A Lion' is a very Dylanesque acoustic number, fragile, confident, and rich in tone, while 'The Garden Where The Grass Forever Grows' brings that harmonica back in full force to create a sumptuous piece of folk-country.
There are moments of glorious hammond organ swells to be found too, especially on the opening of 'Love I'm Coming Home', which moves headlong into Gold era Ryan Adams on the chorus. The musicianship all contributes to lifting the songs that little bit higher – at times they glisten and gleam with little flashes of true beauty.
By Chris Marsh