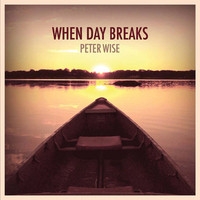 On his latest album, When Day Breaks, Peter Wise fuses the upbeat songwriting like that of Simon & Garfunkel with the wistful yearnings of classic folk and Americana.
Opening with 'To Be Free', it's clear that Peter Wise has the musical chops and writing sensibilities to put together an engaging track. Laced with lap steel and heartwarming descending basslines, there are plenty of treats to be found along the way, with snappy guitar work and head-bobbing dropped beats.
The production on the album uses some fun methods and moments, like the octave-dropped tones on 'Our Ship Has Sailed', and the brief instrumental interlude 'Prelude In D Major', a tumbling, moody piece delivered on piano.
Buy & Listen: https://peterwisemusic.bandcamp.com/album/when-day-breaks
There's some real tenderness to be found too, on the album's title track 'When Day Breaks'. At points it comes close to heartbreaking in its beauty, with escalating emotion and energy. It's certainly a high point on the record.
When Day Breaks is an album that shows Peter Wise's diversity – there's funk on 'Maybe I Was Wrong', soft piano balladry on 'Getting Older', and straight-up rock on 'Train To London'.
When Day Breaks closes with 'I'm A Rock'. While in name it bears resemblance to Simon and Garfunkel's seminal   'I Am A Rock', this original track stands up strong on its own bluesy terms while giving a sly wink to Paul Simon along the way.
When Day Breaks by Peter Wise is an album filled with blues, country, and good old fashioned rock and roll, and there are plenty of fun, engaging hooks and melodies to be found on this collection.
By Chris Marsh