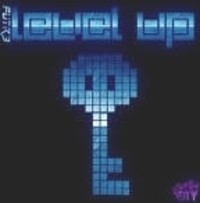 Musical energy and the exchange between audience and a song or band can be such a crucial lifeblood for a composer gathered in the name of fulfilling exhilarating music for music fans. Some of this applies to Electronic based. It may not be for everyone but no one can deny it has a very dedicated cult following. It's almost comparable to a synth monster unleashed for the sole reason to get your ass moving..    
LA based FUTR3 seems to have a firm hold on energy with their melting pot of fun sounds and beats that will warp many into musical submission without even trying . From the East coast to the West coast, one of the industry's fastest rising artists is back again to capture the ears and hearts of electronic music fans everywhere with his brand new EP, Level Up. Currently residing between Los Angeles and Los Vegas, FUTR3 brings an eclectic variety of influences and experience to the table with each and every track he produces. The Level Up EP (Synth City Records) is an epic explosion deriving all your favorite old video game sounds into a dance floor frenzy. We start off with the Electro banger "1Up" where your body will ignite and have no choice but to get down. We then move into the brilliant melodic bliss of breaks with "Princess." We are blessed with the "1Up" remix by the one and only Heavygrinder, who is known for tearing up dance floors wherever she goes. She takes this track to a whole new dimension and warps us into ecstasy. In 2012, FUTR3 teamed up with Miami music prodigy culineR to be part of the "Into Vapor" EP on our very own Synth City Records. They collaborated on "Your Soul Calls Out" which was an Electro masterpiece and a huge chart topper. This composer who calls Los Angeles and Los Vegas his home have been ripping it up shamelessly for the past several years through Synth City records and with this latest 3 song EP entitled "Level Up" it's clear that time has not slowed the progress of this style of music in the least. Known for their super exciting and energy infused sound this composer is on a mission to get you up and dancing without condition.
Now, I can't claim to be an expert on this High Energy Electronica based music or even pretend to know what's up with artists like Flo Rida, Calvin Harris, Avicil, Jack Back and Talo Cruz but I must admit my only real exposure to this style was just recently during a recent road trip courtesy SIRIUS XM Radio   -BPM Channel get the impression this style of music is popular for 2 reasons. 1: it's extremely stimulating to the senses, and 2: the bass when played at loud volumes can be create an almost euphoric effect when dancing especially if you are slightly inebriated.   Loud rock music did the same things many years ago so perhaps this heightened sound stimulation is at the core of it all.   I'm also not naïve enough to overlook that this is really enjoyable music with an undeniable punch. There is some really sweet placement of bash bass kicking throughout the first track: 1Up. Track 2 "Princess" keeps it swanky with an almost quirky delivery that borders between explosive exuberance and mind numbing ambience.   Yep this has everything Electronic, Dance, Club, House fans will love. Track 3 "1Up (Heavygrinder Remix)" is a strong closer that had me dialed in with its big blast of nasty shimmering beat and a sneaky hook that at first gives the impression of power packed Dance but steers directly into a nice section with some tasty keyboard accents. This makes Track 3 my top pick for the EP.
Whether you're a   fan of this style of music or not, FUTR3 shakes the tree with this EP entitled "Level Up." These three track have a little something for everyone under and is well worth the listen. At the least it will be sure to get your legs and ass on the dance floor.   Don't fear the synth monster. He's here to make it better! Just let the spirit move you and you will come to appreciate what this style of music is really all about.
SOUNDCLOUD: https://soundcloud.com/synthcityrecords/sets/futr3-level-up-ep
Score: 4/5 Stars
Curtis Reynolds approved by Janne Zawa
Review comments; jannezawa@gmail.com