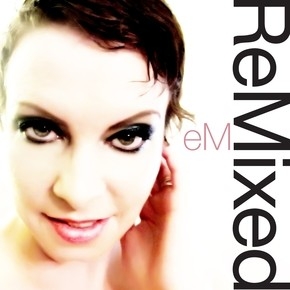 The dance 'n' trance diva from Down Under is back with a hot, new EP titled 'ReMixed'.   The new release by eM features five remixes of older tracks recorded 4-5 years ago.   This Australian singer/producer has created a fresh, new take on some of her older numbers by incorporating a hip 'n' hypnotic sound.   I've had the pleasure to work with the talented eM many times now and she has yet to disappoint me.   She has consistently delivered the jams with ease while gradually getting better with time.   With each new project, eM continues to grow as an artist & producer where it seems her potential is just flat out scary!   Brace yourself because the evolution of eM is ongoing and currently in full motion!  
With eM's soft 'n' seductive vocals & Pop-friendly tone, you get a winning combo with the Progressive/Trance/Dance hooks.   The five remixes have been getting some major heat in her homeland of Australia as well as the United States.   The EP features collaborations with some globally recognized producers, DJ's & artists.   The first would be Cygnus X-1 aka Martin Craig, ½ of the UK trance duo Curtis & Craig who have a regular show on www.party103.com.   eM and Cygnus X-1 chopped it up nicely on the track "In Our Thoughts (Ripped Up Mix)" and you can enjoy the promo video right here!   Next up is Wildboiz, which is a musical duo made up Australia's own Ryan Khay & Tim Aquilina and they collaborated with eM on "You Don't Know (Wildboiz Mix)".   You also have Jerome Zambino, eM's favorite French producer, who has been working with eM for many years now and together they banged out "I Miss U (Jerome Zambino Mix)".   Rounding out the collabos, you have Andy Woldman who is an American-born producer now living in Mexico who helped put his spin on "In Our Thoughts (Andy Woldman Mix)".   The final track is eM's very own remix titled "Tempted (Get Out Mix)" where the multi-dimensional eM is showing off her studio chops with one fine-tuned set.  
"In Our Thoughts (Cygnus X-1 Remix)":  
http://www.youtube.com/watch?v=SsyD25r0vnQ
'ReMixed' is ready to hit dance floors at clubs worldwide and all there is left to say is "Yo DJ spin that wheel"!   With catchy mixing, highly inventive & creative beats and an enchanting & sultry voice, you can't lose!   The entire EP has one infectious groove that will get a hold of you and not let go!   The evolution of eM pushes forward as 'ReMixed' proves to be a smash hit!   Don't forget to purchase a copy of the new EP as the beat of eM goes on and the Remix Party don't stop!
https://itunes.apple.com/au/album/remixed-ep/id839919811
http://www.beatport.com/release/remixed-ep/1275123
http://www.mzzemmusic.com
By Jimmy Rae (jrae2@att.net)