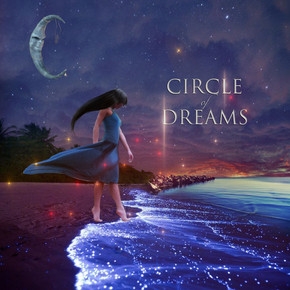 Peter Last is definitely new to the field, but he's already an award winning songwriter with just ONE song under his belt, Circle Of Dreams. Here's a quick Q&A between Skope and Peter Last to fill us in…
Skope: So far you've only penned Circle of Dreams, can you tell us what the song is about?
Peter:  The 'Circle of Dreams' is what we percieve around us in day to day life, but at the spiriitual level it all falls away to reveal the clear light of reality, beyond time and space, which is what we truly are. We dream when we sleep at night then we wake up to the daylight. This is just the same thing at a higher level.
Skope: Do you have more material planned?
Peter:  I have around three dozen songs at various stages of construction.   Two are due for release very soon.   'You're Coming throgh' and 'Falling In' are variations of the same lyrical base but in completely different genres. 'Falling In' is already being covered by a US band even though it has only just been mastered in the last few days.    
Peter Last "Circle Of Dreams" Lyric Video
http://www.youtube.com/watch?v=KJvhrzCd8QE
Skope: What inspired you to write music?
Peter:  I just can't help it. It must be in my genes.
 
Skope: Do you have aspirations to become a professional songwriter or is it more of a hobby?
Peter:  It's like a calling. I have to do it and I do it cause I just love doing it.   Making money would be great but for me it would give the means to develop the songs better. I would love to be able to hire someone to do all the admin. work as I am not really cut out for that.    
Skope: Who did you listen to growing up and who are some of your biggest inspirations?
Peter:  My most enduring influences were Cream, Pink Floyd, Neil Young, Melinie Safka, Bob Dylan and Leonard Cohen.
Skope: How did you write the song? Do you play instruments as well?
Peter:  I was going through a very rough patch, at my lowest ebb and going to bed utterly exhausted each night.   Then the words came to me perfectly formed as though from another place.   I literally had to force myself to get up and write them down. So it's not really my song at all in that sense. It belongs to everyone. As for musical instruments, I learned to pick a dozen or so songs out on the acoustic guitar once and that's about all. I adore music, but I need others to play the instruments.
Skope: Tell us about the collaboration with Vikki Dee, how did that come about?
Peter:  I was fortunate enough to have Vikki helping out as a session singer when first recording 'Circle of Dreams' and she really believed in the song and made it her own.   She did a fantastic job. Vikki has her own band and also writes songs herself.    
Skope: What can we expect from Peter Last in the near future?
Peter:  Apart from the songs I mentioned earlier, I am working on one about the fall from The Garden of Eden. When people hear it I think it could become a bit of a groundbreaker as well as sparking political controversy in some quarters.
For more on Peter Last, please visit http://Peterthelast.Bandcamp.com
Vikki's Facebook: http://Facebook.com/MissDeeRocks
Peter's Facebook: http://Facebook.com/Peter.Last
Douglas Garnett – douglas.garnett@gmail.com