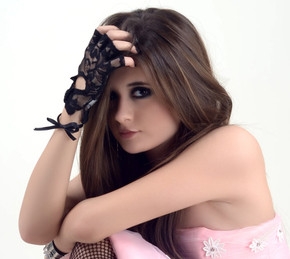 Not your average teenager by any stretch of the imagination, this ambitious and very talented young woman is already making a name for herself at just 16, making fans along the way such as none other than megastar Selena Gomez and top industry heads from all over. SOPHI was selected by our own music committee through ReverbNation and Skope is just another stop along the way to an undoubtedly successful career.
Skope: How did you get started as a singer and is there anyone in particular that inspired you, that made you say 'I want to be a singer'?
SOPHI:   Well, both of my parents are really different.   In a good way, of course.   My mom is from a small town in Tennessee and my day is from New York.   They like very different kinds of music.   I grew up with my mom listening to Johnny Cash in one room and my father playing U2 in the other and it gave me a deep appreciation for music.   I just ran around the house singing all the time.   Then, my music teacher at school told my mom that I had a really good singing voice and he was surprised at how much control I had over my voice at such a young age.   And, it just kind of started from there.
Skope: Who are some of your other musical inspirations and what do they mean to you?
SOPHI:   I really have a diverse taste in music.   From the Beatles to Madonna to Katy Perry.   They all have their own styles and are completely themselves.   I really respect that.   I hope that when I sing people realize that I'm trying to show them who I really am.  
Skope: Your voice sounds like it's well suited for a number of genres, especially pop and rock. Do you see yourself doing other types of music as well?
SOPHI:   Honestly, when I'm singing or writing a song, I don't really have a specific genre in mind.   And, when my fans come to me and tell me that I sound pop/rock or I sound like a certain person, I'm shocked.   It just goes to show you that people can see things in you that you don't always see yourself.   I love pop and rock, but I would also like to experiment with some alternative music too.
"Like Me":
http://www.youtube.com/watch?v=5Dmc2N0ID5o
Skope: I read that you're also a print model and actress, is that something that you also plan to pursue?
SOPHI: Yes.   I think they all kind of work together, but music is my first love.    
Skope: As a young vocalist, you've already accomplished so much, winning talentcontests, being recognized by Sony as an emerging artist as well as having nearly 2 million YouTube viewers. Ultimately, what is your goal with your music?
SOPHI:   I sing because it's what I love, something that is just a part of me.   My ultimate goal is to make people happy when they listen to my music and to write a song that they can relate to.   I love how one simple song can bring so many people together.  
Skope: I heard your version of Bob Dylan's "Make You Feel My Love" and it's very passionate and heartfelt. How did you choose that song and what is your connection to it?
SOPHI:   I first heard a version of "Make You Feel My Love" in one of my mom's favorite movies – Hope Floats.   Then, I heard Adele sing it on the radio one day and I feel in love with it all over again.   When I sing that song, I always think of my friends and family and how I would do anything for them.
Skope: I read in your bio that you've recently signed a management deal with Grammy nominated writer & producer Alex Cantrall (Pink, Madonna, Mya, JoJo, Vanessa Hudgens, Zendaya) and music industry veteran Jeff Gordon based in Los Angeles. How did that come about and what are your plans?
SOPHI:   Alex and Jeff are great.   They found me completely by accident in a song competition for a national car brand.   My song, "Free for the Moment" that I actually wrote when I was 12 was one of the 100 pop songs selected for the competition.   When Alex heard my song, he liked it and decided he really wanted to work with me.   So, he called me up out of the blue and asked me if I'd come to LA.  
Skope: Will we be seeing/hearing a new SOPHI album anytime soon?
SOPHI:   Yes, I'm going to be releasing a new song soon.  
Skope: Any last words you'd like people to know about you before we wrap this up?
SOPHI:   I'd like to thank everyone who has believed in me and my music.   My family, my friends and my fans are my true inspirations.
For everything SOPHI please check out here site www.gosophi.com, there you can connect with her Twitter, Facebook and her media channels.
http://www.facebook.com/SophiMusic
Douglas Garnett – douglas.garnett@gmail.com