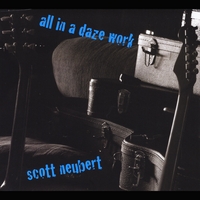 Scott Neubert has spent his musical career making other people sound awesome. He is a producer, multi-instrumentalist, artist, songwriter and the list of talents never stops. He started receiving the accolades in Austin, TX where he won and built a name for himself as Best Multi-Instrumentalist and also known for Kerrville's All Star Band Member. He now is living in Nashville, TN and released his own CD, All In A Daze Work.
Neubert is a highly respected producer and touring musician out of Nashville and has toured with the likes of Hal Ketchum, Trace Adkins, Tanya Tucker, Larry Gatlin and Irene Kelly. His latest release is a compilation of songs he wrote and is a testament to his brilliance both in the studio and on the stage.
Buy: http://www.cdbaby.com/cd/scottneubert/from/greatindiemusic
His songs tell stories we all live everyday. You can get lost in his picture filled lyrics and lulled to a peaceful bliss with the spot on production. There is up tempo, bluesy rock and slower tear jerkers that put you right in the moment. Each tune makes you feel like he wrote it just for you. He is no stranger to the big stages and bright lights; only this time, the spotlight is on him and shining brighter than any star.
Scott Neubert is a polished gem that has made a career polishing others to super stardom, his CD, All In A Daze Work, shows his staying power and is a perfect display of why his career has the longevity all musicians dream about, having album credits on four Hal Ketchum CD's, two for Irene Kelly and one for Trace Adkins. There is no stopping this guy and now his own, that you do not want to miss: http://www.reverbnation.com/scottneubert
I rate this 5 out 5
Rebecca Hosking – hoskingrebecca@gmail.com