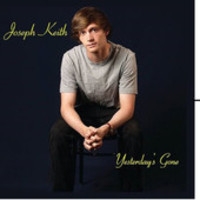 Washington D.C. native Joseph Keith may only be 19, but he's already recorded albums with 2 bands and recently signed a management deal with Barry McCloud Management out of Nashville. However, his latest effort "Yesterday's Gone" is not a country record, if anything I could compare it to would be the softer side of classic rock, and the e.p. features a host of heavies from that bygone era such as top session players who've recorded with Bob Segar, James Taylor, Garth Brooks and Uncle Kracker.
The opening track "Chasing Fairy Tales" has a bit of a pop rock vibe with a classic sound. Joseph's voice is reminiscent of Ben Folds and carries the tune with optimism, keeping things light and cheery.
"Cheer Up"
http://www.youtube.com/watch?v=Yko86vjr_oc
"Don't Give Up" begins with violins with a country twinge. This is a bit of a folk track with a hint of country. The song has a maturity of a songwriter beyond Keith's mere 19 years and the simplicity of the track makes it memorable.
Buy: https://itunes.apple.com/us/album/yesterdays-gone-ep/id756902497
Next is "Little Things" which has an altcountry/folk sound, featuring some interesting chord progressions and mandolins. It's a throwback to the early days of rock and roll, with it's rollin' snare driven beat and standup bassline. Joseph sounds like he's struggling to find his voice in parts of the song, but his falsetto brings it back into the fold. It's definitely the most unique song off the e.p.
The e.p. rounds things out with the title track "Yesterday's Gone", a bit of a pop country ditty with some great musicianship throughout the tune. Especially the paino.
The craftmanship of the e.p. is top notch as is the clean analogue production. It's clear that we'll be hearing alot more from Joseph Keith, a young man coming into his own with a ton of potential. Keep an ear out for this kid.
http://www.josephkeith.net
http://www.reverbnation.com/josephkeithUSA
Douglas Garnett – douglas.garnett@gmail.com