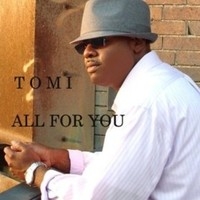 Tomi's latest release, All For You, is sultry soul that gets right to the heart of the matter. His musical career started back in 1991 when he landed a job as a back up singer for the band Hi-Five. He is now singing his way to becoming one of the top R&B artists on the independent scene.
No other way to describe his music other than smooth from the word go. The song, Where Did We Go Wrong, starts off with an interesting percussion styling that puts you in the mood right away. It is a tender love song; he is spilling his heart out, even I think she should take him back. Come on girl!
Each song is sung with conviction and powerful mellowness. Yes it is mellow, soothing and serves the soul well. It is a perfect CD to play after a hard day at work. You can lay back, relax and let Tomi entertain you; even his up tempo tunes spill out with ease. It is spot on production, not too much, just the right amount of groove to put things right.
Tomi's, All For You, is for all listeners. He is reaching a large audience and it is easy to see why he is so very loved and celebrated. He is also a member of Artist Signal where you can listen and vote for your favorite artists, I highly recommend swinging by and showing him some love. https://artistsignal.com/Tomiknjamz
I rate this 4 out of 5
Rebecca Hosking – hoskingrebecca@gmail.com