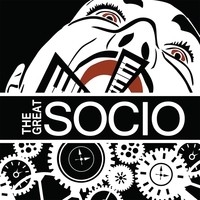 About the Band: Formed in 2010, The Great SOCIO is a four-piece Alternative/Groove/Rock band from the Philadelphia region. Their socio-sound is built of crushing bass/ drum rhythms, poetic lyrics and a wide array of custom synth tones. Their dedicated front-man dons a top hat – mustache combo like no other. His passion for entertaining and wooing every crowd parallels their biggest influences like The Red Hot Chili Peppers, The Doors and Rage Against the Machine. With a growing reputation as one of the hardest working bands in the Philadelphia area, The Great SOCIO questions tradition and offers listeners a glimpse into the future of Rock 'n' Roll Music.
Band members include: Berto Muñoz: Singer, Trumpeter; Monty: Organ and Synths;
Craig Stenger: Bass, Lyrics; Drew Bernier: Drums
Review: Their latest "Find the Time" EP was released in 2014 and I have to say I was extremely impressed with the opening 3 tracks "The World's Alive", "Criminals" and "Let Go". All 3 songs made quite the first impression on me as each one possessed my full unadulterated attention. To be honest: I expected cheesy over the top Rock that was extremely predictable and shallow in nature — very compatible for a mass audience. Well shame on me because what I discovered was actually quite the opposite. The whole CD is wonderfully conservative yet full of what I would call powerful and explosive rocked out musical energy with music that appeals to so many different senses on so many different levels. It reminds me of Faith no More, The Offspring, Red Hot Chili Peppers, Nirvana, System of a Down, Tomahawk and Kasabian. Vocalist Muñoz defiantly brings the hot stage theatrics and kind of reminds me of a hybrid between Iggy Pop and Les Claypool I can also hear the slight Alternative Rock, Hard Rock influence in there as well like Loveage, Primus, Helmet and Naked City.   What I really like about The Great Socio   is there is no attempt to sugar coat the truth or deliver what I call over the top alt rock. Cheezy music with a rough and tumble look via top flight sampling, cookie cutter songwriting via a mix that sounds more like a commercial than a piece of music.   It will also appeal to both advanced and novice listeners alike — but make no bones about it this is highly adrenalized Rock n Roll however you slice it. Whatever kind of listening level you're on – some will identify with things while others will not. Like a three layered cake The Great Socio are one band that has a lot of depth and has so much to offer.   Weather it's musically, lyrically, inspirationally, emotionally, spiritually – if you feel like music is taking us in the wrong direction than rest assured The Great Sociois taking us back in the right direction with this latest EP release.    
Favorite Track: Criminals
Conclusion: This latest "Find the Time" EP by The Great Socio will affirm your faith in good full throttle rock again. In the end these guys from Philly are a unique, hard working punk rock band that know their way around a dive bar, a catchy song and a concert stage.   They represent all that is good in music and their latest EP delivers a highly passionate 6 track catalog via action packed musicianship, entertaining songwriting and music that covers all the bases: Alternative Rock, and high octane Indy Rock.
Final Rating:   4.5/5 Stars
URL: http://www.thegreatsocio.com
Written by Devin Campos edited by Heather Savage
Review comments: heathersavage5@gmail.com