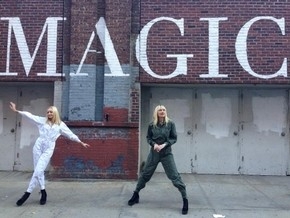 Brooklyn's FEVER HIGH have released their infectious first single, "That's So Typical", as a free download, along with an accompanying video. The indie-pop duo – Anna Nordeen and Leah Cary – are currently working on their debut album with pop maestro Adam Schlesinger of Fountains Of Wayne, known for retro-tinged hits like "Stacy's Mom" and 'That Thing You Do". Fittingly, "That's So Typical" is a hook-filled earworm with a clear nod to Eighties dance-pop.
The New York-centric video for "That's So Typical" was directed by Ben Fries, who has shot clips for Holy Ghost, Theophilus London and others.
"That's So Typical" can be downloaded for free at www.soundcloud.com/feverhigh.
The video can be seen at www.feverhigh.com