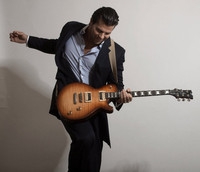 Matthew Schultz is a force to reckon with and displays his talent in his current single, Crazy Heart. Schultz got an early break, playing guitar for Chris Daughtry's first band and decided to try his hand solo. For this single he teams up with the amazing Alessia Guanera, one of the current hottest indie artists to hit the scene.
The song is smooth from the word, go. Guanera belts out some powerful vocals that exudes the sexy mood portrayed in the lyrics. Schultz answers her intensity when he chimes in with sincere conviction. There is not a girl alive that would not want this to be sung to them and I'm willing to bet they will be dreaming as such, when it is heard.
Schultz displays his debonair charm and takes hip hop to a whole new level. He owns his rhythmic style and does it like no other. There is a catchy guitar strum that quietly pulls you into his world. It is an extremely comfortable place to be as you drift into his fantasy. Then the beats roll in thumping into your chest as the music builds. You are left speechless and completely satisfied.
Crazy Heart is the first single to be released off the new CD, Heart to a Throbbing Guitar, which will be released later this year. Matthew Schultz is a talent unsurpassed and is changing the face of hip hop as we know it. He has sophistication with sex appeal and will be soon melting the hearts of woman everywhere.
http://www.reverbnation.com/matthewschultzofficial
I rate this song 5 out 5  
Rebecca Hosking – hoskingrebecca@gmail.com