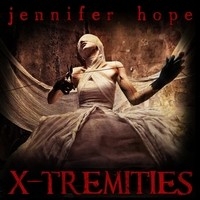 "I know there are others who feel like me, and I write songs to speak to them," says Jennifer Hope, a songwriter based in L.A. whose "feelings are too strong to fake it." A classically trained musician, she is also a "wounded angel" who purveys a multilayered and mystical strain of alt rock.
Having contributed to several CD compilations and released a full-length album in 2013, she now comes forth with an EP called X-Tremities. By the way, this EP has been sponsored by none other than Eddie Van Halen.
This meticulously produced endeavor consists of three tracks, two of which are covers of "Every Breath You Take." It's rather risky covering such a ubiquitously beloved classic, because the standard has been set so high. Ms. Hope is clearly willing to risk it.
X-Tremities New EP Song Clips!
http://www.youtube.com/watch?v=mhsCK8dTWTc
Her rendition of "Every Breath You Take" begins with an interesting percussion arrangement. At 1:35 we witness the emergence of a dual-vocal track, which adds some emotional depth.
As for the second version, "Every Breath You Take — Acoustic," that opens with one of the most soothing intros I've heard in some time. There are moments when the vocals can be quite sensual.
However, there is definitely also a soulful element. At 1:37 the track changes abruptly, picking up pace. Hope's voice can be teasing and whispering, or erupt into a climactic harmony.
"The Fine Line" is a track that, according to Hope herself: "describes the actions and reactions between two performing artists." I find it heavy, romantically intense, and somewhat mystical. The lyrics can be quite eloquent and titillating: "to ignore attracts a fight / to explore consumes the night." Yeah, personally, I'd like to 'explore.'
Begin your exploration at: http://www.jenniferhope.com/
The X-Tremities EP has a release date of Tuesday, April 8. It can be purchased on iTunes (https://itunes.apple.com/us/album/x-tremities-single/id835294772) and at Amazon.com. Physical CDs can be purchased at CDbaby.com (http://www.cdbaby.com/Artist/JenniferHope1).
Ray Cavanaugh – owleyesgatsby@yahoo.com