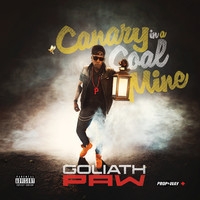 Canadian Rap Sensation Goliath Paw just released his latest EP entitled "Canary in a Coal Mine" in 2014. The result though far from a self-indulgent ego trip, rather a moving and elegiac artistic statement from start to finish. This is not your overly predictable Ramon Noodle "Sing-Songy" Rick Ross rap album. Instead Goliath Paw makes all these tracks his own showcasing tasty rhymes, thick rhythms and an infectious persona that is of the charts. I was amazed at how diverse this EP really is. In Goliath Paw could even be classed as a 3 genera band: Rap, Hip Hop and what I call Hip Hop Pop. Goliath Paw has way too much precision and clarity to live in the shadows of overly-predictable corporate music. Indeed this is clearly evident in songs like "Higher", "Drop It" and "Nine to 5" which methodically ups the ante to a very respectable level of catchy musical craftsmanship and addictive melody that transcends pigeonholing. The music is also commercially viable with Goliath Paw's smooth as silk sound baritone that holds the attentions span of the listener perfectly. But do not let your guard down — because when you do you will get exactly what you deserve — served! Goliath Paw also delivers rap at Mach speeds — a dying art and skill. It's good to this aspect making a comeback. This kid has got mad skills behind the microphone and he can pretty much do anything there. In a nutshell this is Chris Brown meets Eminem. Other notable comparables include K-Skillz, L.A.M.E, Ceej'Bezel, and THR33Z. "Canary" EP appeals to many listeners with a wide variety of musical styles — but it packs a powerful punch with a powerful voice for all the new rappers out there who want something more than the status quos right now.
Favorite tracks: Get Away, Drop It, Numba 1, Nine to 5
Conclusion: I would imagine in time we will hear more from this amazing artist in the near future as his sound evolves. To be honest this is the first "legit" rap artists I've heard from Canada. Having said that Goliath Paw has carved a marketable niche for himself both of the border around Ontario on a few of these tracks thus setting himself up for marketable success down the road. I encourage you to check out this EP ASAP Via the below Sound cloud link. But for now I can honestly say this is one artist that clearly gives you a musical snapshot that is highly original, unique and dare I say dangerously energetic and synergetic in scope.
Score: 3.5/5 Stars
https://soundcloud.com/goliathpaw
Carly Tomlinson. Approved by Janne Zawa
Review comments: jannezawa@gmail.com