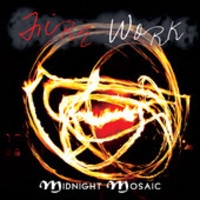 This sextet from Asbury Park, N.J. has all the essential ingredients of an explosive live band, and their new album Fire Work seems to capture that lightning in a bottle experience that most of us musician types could only hope for. They're currently ranked #1 on ReverbNation and enjoying airplay across the globe through terrestrial, web and college radio and Skope is here to dig in and figure out what makes this album tick; I give you Fire Work by Midnight Mosaic…
The album begins with their first single Right To Die, a rock track I could only compare to fellow Jersey rockers Bon Jovi, Talking Heads and an industrialized version of the Red Hot Chili Peppers.
Spotlight begins with a drum, then bass, adding new elements every few bars before the vocals come in and the chorus kicks down the door. Then it's back to basic 4 bar blues verses and until the giant chorus. After the 2nd chorus there's a cool prog rock break down. The chorus reminds me of Muse's Hysteria, though not in content.
Bazooka Gumption has a sort of Interpol intro before jumping into some serious funk, the bassist has some serious skills and cuts loose on this track especially. The backing vocals also shine too. The rest of the track has a Prince meets Chili Peppers via the 80's vibe to it.
Buy: https://itunes.apple.com/us/album/fire-work/id744160930
Old School is another one that begins with clean Interpol riffs before descending into a a snare driven beat. It's like a highschool reunion that I don't remember attending.
Next is S'Often which begin like a 2112 era Rush tune, moogs and prog rock intros, it's all pretty crazy cool. It somehow works into a funky prog rock tune.
That leads into Abyss, with more of that Prince meets RHC sound.
Amnesty has a 70's hard rock riff, think Immigrant Song by Led Zepplin and Rainbow meets Faith No More.
Underdog begins with a synth intro before kickin' into more of that 80's prog rock. I'm not sure how this would be classified in today's world of multiple sub genres, there's so much going on.
My Fair Lady slows things down for a bit into more traditional slow funk rock. The song builds up into more of some crazy prog rock with some cool guitar fx.
Wait ends the album on a funky note.
Midnight Mosaic have alot of influences and while they might not have quite found their niche, they've made some interesting and entertaining songs with some memorable moments worth sharing.
Definitely worth checking out their album Fire Work.
http://www.reverbnation.com/midnightmosaic
https://www.facebook.com/MidnightMosaic
Douglas Garnett – douglas.garnett@gmail.com