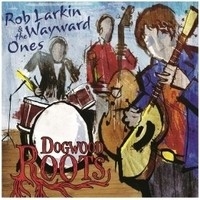 Enter Los Angeles based singer/songwriter Rob Larkin & The Wayward Ones who just released his latest 10 track CD entitled "Dogwood Roots" (2013). On the upside, you can expect 10 vintage pieces that champion high quality poppy folk and topics canvassed against an alt-rock backdrop. Some songs have an almost earthy sound to them while others deliver "kick-ass" jump jive musical theatrics.
The arrangements are dynamic, ethereal, cathartic enough, yet vintage in their own right. Ninety seconds into the title track "Dogwood" two of the first things crossing my mind were: 1) How undeniably truthful and honest this music sounds, and (2) why the heck haven't I heard of Rob Larkin yet? But let's not get to ahead of ourselves. Track 1 the title track is a kind of a beautiful intro piece offering an almost clairvoyant flash back prelude which leads you head first into jumpy Track 2 "Tijuana" and impassioned Track 3 "LA." "April" and "One Rises Up" really capture a   good writers touch and finesse, and "Still Here" to me is an intellectual affirmation of sorts that seems to stay with you long after the piece has run it's course. The CD as a whole does a nice job at offering a wide variety of playing styles; some slow, some fast, some hard some not to hard. All tracks are a welcomed return of good alternative folk and again a touch of singer/songwriter powerful in the 70' and 80's. Also present: powerful elements of today's crossover singer/songwriter/pop genera. My favorite tracks are the ones that are the ones that have a ring of truth to them — "April". "Still Here" and "LA". Up front Larkin brings a raspy almost whispering vocal delivery. His melodic phrasing is right on the money and he has an effective visual as well. Why does he keep reminding me of John Mayer? Bring in a combination of good playing, solid heartfelt vocals, top flight production value, and you come away understanding why many are talking about Larkin down in Southern California. All pieces flow like a stream so nicely, almost masterfully. Some songs peak with sheer excitement and intensity, while others withdraw into quiet chilled-out seclusion. I found this to be a very cool trait of Larkin. The lyrical content provides inspirational subject matter, and potent topics for today's thinking fan. All songs are straight from the heart.
Whereas most musical production these days are like a cup of Raman Noodles, "Dogwood Roots" is like a bowl of seasoned Escargot with garlic butter served with a splash of fine cognac. Taking all of this into consideration you begin to understand why Larkin was recently added to Spectra Records. Larkin is clearly making waves internationally with his music. In the end Rob Larkin & the Wayward Ones along with all the behind the scenes folks deserve a lot of credit for bring all this together. "Dogwood Roots" does a marvelous job of extolling energy via a strong 10 track masterpiece known as "Dogwood Roots." Need I say more?
Label: Spectra Records
Melissa Jones, edited by Joshua Beach.
Review comments: joshuabeach9@gmail.com