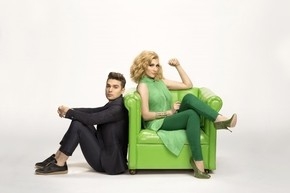 Platinum-selling duo Karmin (Amy Heidemann and Nick Noonan) have unveiled that their brand new single "I Want It All" will be released on January 28th.   A lyric video premiered this morning on VEVO which will be followed by the official video soon.
The lyric video can be seen at http://smarturl.it/IWIAlyric  
The chart-topping duo will perform the single live on TV for the first time on "Live With Kelly & Michael" on February 6th.     "I Want It All" serves as the latest single from Karmin's hotly anticipated full-length debut, Pulses, available this spring via Epic Records.