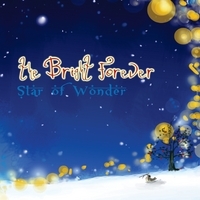 Megan Hook of Te Bright Forever just released her latest collection of Christmas Songs called "Star of Wonder" Hook is no new comer to the Music Business. She is clearly a seasoned vocal performer and is classical trained vocalist in her own right enticing fans with appealing material, impeccable vocals and elaborate imagery. With a vocal style comparables like Sarah Brightman, Enja and Era, Hook has created a style uniquely her own via The Bright Forever moniker. "Start of Wonder" delivers everything the title implies. Here you will discover a carefully crafted collection of music showcasing 11 cheerful pieces —   classic remakes. The end result creates a foundation for memorable and uplifting songs that are extremely festive and impassioned. There are also clear-defined message of love, memories, and family all compatible with the Christmas spirit. As the CD advances forward you can definitely hear the Celtic Euro-Classical style within her music. Especially in tracks "Angels We Have Heard on High" and "The First Noel" It's in this environment Hook really hits it out of the park. There are also many heartfelt piano driven ballads as well like "We Three Kings" and "Adeste Fideles" and Auld Lang Syne"   Along the way one will notice pleasant Piano, String arrangements, Sporadic percussion, cello and bass. As far as vocal style Hook will remind you of Clannad, Loreena McKEnnitt, and Moya Brennan, Despite this she has her own unique style and vocal grace. Vocals from Hook showcase an impassioned mezzo soprano that proves she is a marquee performer. The CD is filled with much in the way of passion, pin drop moments, amazing vocal work and solid playing via top tiered production value.
Criticism: Some of the upbeat track sound out of place on this striking catalogue: Jingle Bells." This CD may not to be the production level of Josh Groben of The Celtic Women, however it is still better than 90% of the Holiday CD's out there right now.  
My favorite song is a toss up between "Angels We Have Heard on High" and "Coventry Carol"   Whereas 90% of the Christmas CD's from Independent Artists give off a Karaoke feel — Hook is clearly at a different level with her vocal delivery. This is an important factor for me when evaluating a Holiday CD like "Star of Wonder." Keeping this in mind I'd rather listen to Megan Hook than 90% of the tacky cut and paste Holiday albums out there right now. Overall, this latest release from The Bright Forever pulls out all the stops and will bring nothing but positives to your Holiday gatherings. All this and more makes Megan Hook a hot commodity this December.      
Primary URL: http://www.meganhook.com/Welcome.html
Rating: 7/10
Ann Hollister edited by Janne Zawa.
Purchase Link: http://www.cdbaby.com/cd/thebrightforever4
Review comments: jannezawa@gmail.com