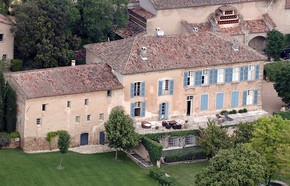 Celebrities make millions of dollars a year, which gives them the ability to afford mega mansions, luxurious cars and almost anything they want. Celebrity homes tend to be huge estates that come with all the comforts of luxury. Here are six examples of the most luxurious celebrity estates:
Brad and Angelina's New Property
Brad Pitt and Angelina Jolie are Hollywood's power couple and earn millions each year. Their new homes, one of which is a lovely 17th century chateau in the South of France, is simply jaw-dropping. The spectacular estate has 35 rooms, a beautiful garden, a moat and a bountiful vineyard. This power couple also owns a beautiful home in Long Island that's worth a whopping 40 million dollars. This couple is know for being world traveler and they are accumulating enough properties around the world to make that statement more true then ever.
Hugh Hefner
The Playboy Mansion in Los Angeles is one of the most extravagant celebrity homes. This infamous mansion has 22 rooms, a wine cellar, gourmet kitchen, zoo, aviary, pet cemetery and outdoor area that's complete with a pool and hot tub. Now that's living large.
Oprah
Of course, Oprah's mega mansion made it on the list. "The Promised Land" estate is located in Montecito, California and comes with all the bells and whistles. This estate has beautiful ocean views from most of the home's windows; it also comes with a game room, humongous swimming pool, extravagant kitchen and is on 42 acres of land. This is an American castle fit for any queen, and Opera being such a mega mogul, spared no expense.
Tiger Woods
This golfing champion sure lives well. His home has 3.5 acres of land and comes with numerous amenities. Tiger's love of physical activity is more than apparent because the home has a tennis court, a gym, a boat dock, a running track and a huge swimming pool. The basement in this home is the perfect entertainment center that's complete with a cinema, a playroom that's stocked with the best games and a huge wine cellar for parties.
Will and Jada-Pinkett Smith
These Hollywood movie stars certainly live like royalty in their Malibu home. The 9-bedroom estate is decorated with contemporary furniture and has all the latest upgrades. The kitchen is a chef's dream because it comes with modern appliances and plenty of counter space. Additionally, this home comes with a tennis and basketball court, a recording studio, a movie theater and a game room.
Ryan Seacrest
Ryan Seacrest owns the ultimate bachelor pad. The 37.5 million dollar estate is the perfect place to host parties because of its expansive yard. This home comes complete with a huge kitchen, movie theatre, luxury bathrooms and plenty of entertaining space.
We all know that celebs live a different lifestyle, but now you know all the ins and outs of some if the biggest names is Hollywood and where they call home.