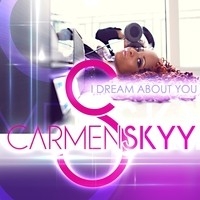 Miami pop singer Carmen Skyy's new single "I Dream About You" is the quintsential club track, with that big Miami bass and combination of hiphop and electro house. Carmen's followup to her successful debut mixtape "Backstage", "I Dream About You" is destined to become a staple not only in South Florida, but possibly around the world. You can already hear her hit on various radio stations, including 107.1 FM in Ft.Pierce, FL, Launch Radio and on the syndicated program, Under the Radar.
Her lyrics are simple and easy to sing along to. The stomping club beat's high energy almost forces the listener to shake their money maker, and the music's uplifting sound is contagious. The song was produced by famous television and music producer Don Jarvis, who's credits include Jimmy Kimmel Live, Buckwild and The Real World, as well as diverse artists such as Roscoe Dash and Wale.
The song is about finding love, and while it could have ended up turning into a cliche, Carmen takes a unique approach, choosing to rap the verses, some even in her native Spanish [her parents are Hatian and Venezuelan] while singing on the choruses. The song is bursting with ascending synths and 8-bit keyboard melodies, and occasionally breaks down into an industrial/hiphop grind to break up the traditional 'boom ch boom ch boom ch' normally associated with club tracks.
"I Dream About You"
http://www.youtube.com/watch?v=eEwcRv7Dt9I
Carmen has already found success with her mixtape, with her songs being picked up by MTV and even a Starburst commercial, so there is no doubt that "I Dream About You" is going to perpetuate Carmen to the next level. I wouldn't be surprised if one day soon we'll all be singing along to Carmen Skyy with her fun and inspirational as well as diverse sound. Keep an ear out for Carmen Skyy!