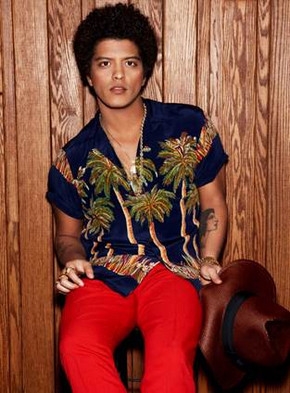 Grammy award-winning artist and Super Bowl XLVIII halftime performer, BRUNO MARS has announced plans to continue his worldwide arena trek dubbed THE MOONSHINE JUNGLE TOUR in 2014. After 10 dates in Australia and New Zealand, Mars will continue on to Asia and Mexico. Full list of dates below. Additional North American tour dates will be announced next week.
BRUNO MARS – MOONSHINE JUNGLE TOUR 2014
February 28 — Perth Australia — Perth Arena
March 2 — Adelaide Australia — Adelaide Entertainment Centre
March 4 — Melbourne Australia — Rod Laver Arena
March 5 — Melbourne Australia — Rod Laver Arena
March 7 — Brisbane Australia — Brisbane Entertainment Centre
March 8 — Sydney Australia — Sydney Entertainment Centre
March 10 — Sydney Australia — Allphones Arena
March 11 — Sydney Australia — Allphones Arena
March 15 — Aukland New Zealand — Vector Arena
March 16 — Aukland New Zealand — Vector Arena
If you are looking to check out the shows head on over to Big Ticket Shop – Australia first. They   provide a wonderful list of the best deals on offer from several retailers, offer discounts where we can, and link you to the greatest offer so that you can place your order.
The multitalented singer, songwriter, producer and musician was born to a musical family in Honolulu, Hawaii. His father, a Latin percussionist from Brooklyn, organized a Vegas-style revue that featured the entire family, including his mother, a talented vocalist. Four-year-old Mars observed his family performing Motown hits, doo-wop medleys and impersonations for enthusiastic crowds all over his native Waikiki Beach. Soon after, Mars became the world's youngest Elvis impersonator performing in front of the same enthusiastic crowds on a nightly basis.
As soon as he graduated high school, Mars left Hawaii for Los Angeles with dreams of launching his career as a performer. Those dreams got put on hold, however, when The Smeezingtons, the songwriting/production team he founded with Philip Lawrence and Ari Levine, suddenly took off. The trio began crafting major hits for a diverse roster of talent, including Flo Rida's "Right Round", Travie McCoy's "Billionaire", and K'Naan's "Wavin' Flag", which was the theme song for the 2010 FIFA World Cup.
Mars first achieved worldwide visibility and success as a featured writer/producer/singer on two massive summer hits in 2010 (McCoy's "Billionaire" and B.o.B's "Nothin' On You").
Following his worldwide success with Doo-Wops & Hooligans, Mars created the critically-acclaimed ballad "It Will Rain" for the original motion picture soundtrack for The Twilight Saga: Breaking Dawn Part 1. The success of "It Will Rain" marked the 11th top 10 single for Mars, following solo blockbusters like the multi-platinum #1 hits "Just The Way You Are" and "Grenade" — as well as songs written and co-produced by Mars in his role as one of The Smeezingtons, including CeeLo Green's history-making "F— You."