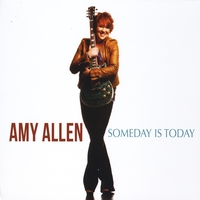 Amy Allen is a new comer on the country charts and is making some waves with her new release, Someday is Today. She has an irresistible, bubbly personality backed by powerful vocals that evoke real emotion.
The title track rings true as she is proving hard work and solid talent is what it takes to make dreams come true. With her tight flawless vocals she knows how to make you have some fun then she will turn around and draw a tear from your eye. Her songs are snippets of her own life's ups and downs. One of my personal favorites is, Gotta Find JT. It's an up tempo toe tapper that is reminiscent of the legendary Patty Loveless.
Amy Allen "Someday Is Today"
http://www.youtube.com/watch?v=wa1Ac-_UQC8
She sings loud and proud in the song, Josie Rae about her daughter. When she is describing her smile you can't help but grin from ear to ear yourself. She entertains by telling her stories openly and honestly. She puts new meaning to the old saying, 3 chords and the truth. She has a knack for tapping into those universal feelings; whether you lived through it or not she gracefully puts you in her shoes. She will have you dancing, crying and laughing in this musical ride that is pure excitement from beginning to end.
Amy Allen has a lot to be proud of with her new CD, Someday is Today. Her someday has certainly come. I look forward to seeing this young lady's career soar to new heights. She is a genuine talent and is entertainment at its finest.
I rate this 4 out 5
http://theamyallen.com/music/someday-is-today-2/
Rebecca Hosking – hoskingrebecca@gmail.com – http://www.reverbnation.com/rebeccahosking