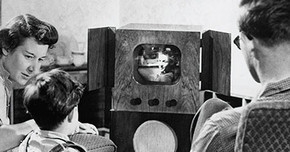 The abundance of HDTVs at your local electronics retailer is enough to make your head spin. When you step inside, your eyeballs will be instantly overwhelmed by all of the fantastic television screens showing high definition images. With so many excellent TVs from which to choose, many consumers don't know where to start. To help them out, here is guide to the top five hottest TVs right now.
Panasonic TC-PZT60
This is quite possibly the greatest plasma TV on the market right now. Panasonic is known for their excellence, and this model is no exception. The rich colors, and deep contrast of the picture make this HDTV on of the best models for watching movies and sports.
Panasonic TC-PVT60 series
Yes, Panasonic has two of the top five hottest TVs on the market. That is because they are the industry leaders in creating HDTVs with amazing picture quality. Although the picture quality is perhaps a little less wonderful than the TC-PZT60, this plasma model will still wow viewers with its fantastic picture. Panasonic plasma TVs are the way to go for people who want great contrast and rich blacks.
Sony KDL-55W900A
For TV shoppers who are not enamored with plasma TVs, the next best option is to get an LED model. This model does not have quite the pop of a plasma TV screen, but it still has an amazing HD picture that will be a joy to watch. Also, LED TVs last longer than any other type of HDTV. They also offer a picture with excellent visibility in bright rooms.
Samsung PN60F8500
This plasma TV offers 3D viewing that will astound its owners. The picture quality is stunning, and there is nothing more exciting than watching 3D sports programming from sports packages from Bell on this TV. You will want to hop on the telephone immediately to invite all your friends over to watch the game. The picture and 3D capability of this TV set it apart. In addition, when you buy from a name like Samsung, you know that you are getting a TV that will last.
RCA LED42C45RQ
For shoppers who are looking for a highly affordable HDTV, there is no better model on the market than this gem from RCA. RCA has been one of the most respected television makers since the pioneer days of television, and they have kept up their sterling reputation with this great TV. It has a phenomenal picture, and is a very energy-efficient and long-lasting LED model.
When you are looking to add a new TV to your home, do some research and find the best model for your home and family. These types can be a great new purchase for a ready consumer.