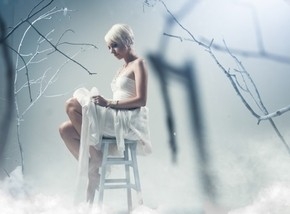 I Am Snow Angel, moniker for synth-pop producer and vocalist   Julie Kathryn, announces the release of her self-titled debut EP slated for February, 2014. An accomplished singer, musician and songwriter, I Am Snow Angel projects a finely-tuned musical aesthetic in a self-written, engineered and produced 4-song collection.
 
Listen to "Grey White December" here:
https://soundcloud.com/iamsnowangel/snowangel-grey-white-december
The new single "Grey White December" whispers with breathy vocals that float above layers of sophisticated synths and rhythmically complex beats. The artfully crafted track is designed so that, "amidst the electronics, Kathryn's voice comes through with a highly controlled simplicity, indicating an understated vocal power" (AudioFemme).