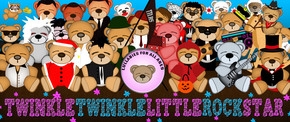 Beloved songs by the legendary JOHN LENNON get the Twinkle Twinkle Little Rock Star Lullaby treatment in this new collection, available on iTunes now. Featuring soothing versions of classic songs such as "Imagine", "Give Peace A Chance," and "Happy Xmas (War is Over)," this collection is perfect for any parent who wants to play the music they love for their little one. These beautifully treated classics are also perfect for those practicing yoga, massage, or just want to relax with their favorite music. Available via iTunes and Amazon.
Video for "Imagine" from Lullaby Versions of John Lennon: http://www.youtube.com/watch?v=VJIr5VGsVns
To Purchase via iTunes: http://goo.gl/SvkHKP
Twinkle Twinkle Little Rock Star was born for the parent that wants to pass along their biggest passion to their child; music. Twinkle Twinkle Little Rock Star transforms popular music into instrumental lullabies perfect for soothing babies, or adults looking to just unwind. Now, parents can enjoy the music from Lady GaGa to Metallica in a comforting, lullaby style. With over 135 titles to choose from, Twinkle Twinkle Little Rock Star is the largest line of pop, rock, metal and jamband music lullabies in the world.