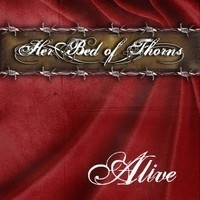 Camaraderie, complement and a steady flux of hard-hitting rockers and melodic ballads is the stuff that makes up Her Bed of Thorns. The guitar interplay of Chris Irick's melodic rhythm offerings versus the technical and intricate finger work supplied by Tim Nicholson is the shiniest facet of their debut, Alive. The 10-tracks wax and wane between agro chug guitar and emotive, demure chord progressions bringing versatility to the tracks and the album ethos.
Opening to title track "Alive" the guitar crunch assault begins immediately with string busting riff work just under the urgent vocal delivery of Irick. The midpoint break illustrates the strength of the pair's guitar tandem all the while the rhythm section shows up with appropriate fills to tie the track together. What's immediately apparent is the tight technicality of the instrumentation. Bouncing bass line opens "Better Way" a self-introspection track and the first pace changer of the album. This shows the agro guitar work mulled at the intro, laying a melodic foundation for the vocal delivery to meld with. The chorus brings the "power" facet with slightly distorted chug electric chords. "Broken" ramps up with full-distorted electric tandem, more bouncing bass and pounding intensity from the percussion. Gruff electric and vocals usher this one through the verse through to some rather intricate drum work. The tight double bass drum and snare notes are flawless at the fills, proving this isn't a "guitar-only" driven band. "Fall Down" is the reemergence of the ballad with more demure picking at the intro and the gruff vocal delivery eschewed for the melodic. Breaking the song cadence, this one is accented with a strong picked acoustic solo at the midpoint; again the note work is as technically tight as can be. Opening to slight percussion and dour bass notes, "I.O.U." builds through until the floodgates are opened for more agro chunk guitar notes. This one reeks of urgent, straightforward rawk through the midpoint Wah/distorted electric solo to a breakdown outro. For it's musicality, choice instrumentation and song progression; this one perhaps shines brightest.
After several listens, I feel like I hear a lot in Alive. From a musicality standpoint, any of the ballads could easily have made the cut for Alice In Chains' Jar Of Flies. At other points, I hear elements of radio-friendly Rock the likes of Puddles of Mudd or Staind. And at others, I hear raucous Rock the likes of Saliva, without the "high energy/low IQ" of some of their tracks (Irick's lyrics strike me as more dense, weighty and significant than Scott's). In terms of debut albums, this has all the necessary facets to warrant a good first impression: tight instrumentation, proper arrangement and vast musicality are always good feet to put forward on your first time out.              
by Chris West – cwestlaz@gmail.com
I give this 3.5/5 Skopes.