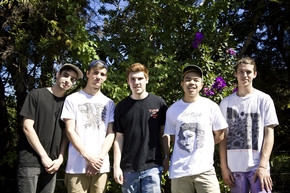 After a long wait, Sydney's Endless Heights are able to announce the release of their highly anticipated debut album, New Bloom.   Having dedicated the past few years to refining their sound and evolving as musicians and people, Endless Heights have laid it all out on New Bloom and are ready to let audiences hear their efforts. New Bloom will be released Friday 15th November just in time for their national tour alongside US band Daylight.
http://brokenhiverecords.bandcamp.com/track/the-new-bloom-2
 
Having formed 2009 on the North Shore of Sydney, Endless Heights honed their skills playing extensively locally alongside a vast array of bands. Initially playing a heavier style of hardcore, the band took a more melodic direction as they progressed, their distinct guitar sound highlighting positive and emotive lyrics. Over the release of two EP's Prologue and Dream Strong and last years Lady Wisdom 7" the band has evolved their sound, stripping back the heavier elements of their music and embracing melody to create rich soundscapes.
Pre-orders and limited bundles are available now at www.store.brokenhiverecords.com
Check out the new Broken Hive Records website at www.brokenhiverecords.com