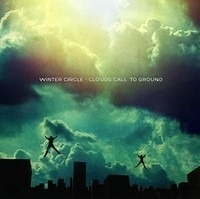 About the Artist: This is Oklahoma City based music project Winter Circle's latest CD entitled Clouds Call the Ground (2013). Three years ago Winter Circle thought they would never make music again. On the heels of a growing tour schedule and a shift to perform music full-time lead singer Kevin Dawson began suffering agonizing daily pain eventually diagnosed as Avascular Necrosis, a debilitating degenerative bone disease that causes limited use and then death of once-healthy joints and bones. Band consists of two ore members:   Kevin Dawson and Andy Hale. Review: Clouds Call the Ground   is one release that certainly doesn't disappoint. This is one project that brings to the table effective songwriting via a highly marketable musical delivery and at times explosive. This meshed with a one in a million Alt-Rock sound and effective visuals and vocals makes for a very effective combination no doubt. Winter Circle is just a breath away from College-Indie-Pop or even Punk but skillfully and methodically never crosses the line into either realm. All songs are wonderfully simple but masterful in their overall arrangements. Music reminded me of a cross between Saosin, Story of the Year, Taking Back Sunday, Yellowcard, and Silverchair. This CD is quite entertaining overall with an amazing vocal front and rocked out guitars from Dawson/Hale. They are a musical triple threat in my mind.   This is a world class Rock CD. Dawson/Hale come together forming and amazing voice, good songs and a likeable appeal (visually and vocally). The lyrical content is straight from the heart and offers a very strong and confident male perspective and spirit. This doesn't mean many females won't love Winter Circle as well. All song do exactly what they are meant to do via well-crafted movements and top tiered musicianship. The overall production value is superb with a crystal clear sound quality.  
Top Tracks: Lights out, Porcelain, Where You are
Criticism: None
Conclusion: Winter Circle has proven herself again with this latest release. They are clearly an up and coming talent around Oklahoma City area and are just fun and exciting to listen to. All band members bare clearly capable musicians. I must admit Clouds Call the Ground Our Summer sucked me in like a powerful drug and refused to let go long after the CD was over. This usually indicates he is something special about the artist or band in question. Thus deserving praise, recognition and musical fame at the international level.
URL – http://www.reverbnation.com/wintercircle
Rating: 4/5
Drew Blackwell edited by Mindy McCall
Review comments: indemindymccall@gmail.com