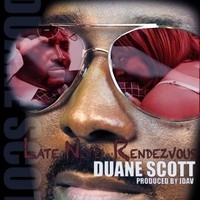 Hailing from the Mighty Mississippi, singer/songwriter Duane Scott is ready to hit the town in style during one wild "Late Night Rendezvous".   The new single will be included on the upcoming release of 'I AM Duane Scott', which is still in the works.   This will be Duane's third studio album to date and it hopes to be his best work yet!
R. Kelly is a major influence on this up-and-coming artist from Clarksdale, MS and you definitely get a solid sense of this while listening to "Late Night Rendezvous".   Clarksdale is known for breeding musical talents such as: the one and only Sam Cooke (RIP), Ike Turner (RIP), Nate Dogg (RIP), Rick Ross and producer Elvis "BlacElvis" Williams.   So, there's no question that Scott is in good company as he is ready to carry the torch and make a name for himself.  
The new song really pops out at you and by that I mean that it grabs your attention right from the start with its flashy appeal & professional touch.   You can actually hear that a tremendous amount of thought & effort went into the making of this single.   With the help of top-notch producer Jonathan "J Dav" Davenport, Duane Scott's "Late Nite Rendezvous" already sounds like a BIG hit and MAJOR success to me!   The track offers up a classy, cool and calm approach that can be enjoyed by both the ladies and the fellas.   Duane is simply killin' it with a super-catchy, melodic hook along with his smoother-than-butta vocals.  
Late Nite Rendezvous:
http://www.youtube.com/watch?v=yepnTjYrw6M
Duane started off singing in the church as a child but now he shares his gift with you and I.   With exuberant talent on his side and "J Dav" producing the tracks, it seems that the party has just begun for the Mighty Miss R&B artist Duane Scott.   Don't wait up because this "Late Night Rendezvous" will continue to roll on until the break of dawn.   I'd also like to add that the piano played a crucial role on this song by giving you that elegant touch with the black and white keys all coming together.   There's a new R&B kid in town by the name of Duane Scott and he will see YOU at the hottest spot around… the "Late Night Rendezvous" of course!   Be there or be square!   I do believe D Scott can fly AND fly high…in the sky…and that is no lie.  
http://www.duanescott.net
http://www.youtube.com/dscottmusiq
By Jimmy Rae (jrae2@att.net)
5/5 Skopes