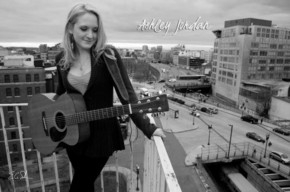 Singer/songwriter/musician ASHLEY JORDAN has just released her newest music video "If I Had You", a haunting song with an underlying message about loss.   The original song was written by Ashley and recorded in early 2013, and the video was created this summer with the help of filmmakers at Dark White Media in Massachusetts.
http://www.youtube.com/watch?v=pJNEvBxeiek
Ashley has continued to make her way in the music world, receiving a great deal of recognition this past Spring/Summer at award shows.   In March of 2013, Ashley was awarded "Country Artist of the Year" at the 2013 Limelight Music Awards at the Rock Junction in West Greenwich, RI.   In April, 2013, Ashley was presented with two coveted awards at the Worcester Palladium for the 2013 Worcester Music Awards: "Best Female Vocalist" and "Best Country/Americana Act".   Ashley and her band had the honor of performing some of her original music at both of these award show events.