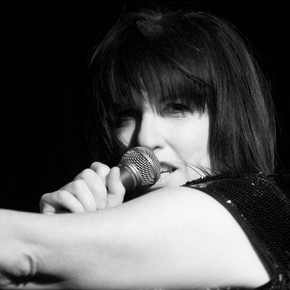 From New Zealand comes Mo Blishen, who has just finished recording her album "Wide Awake And Highly Strung" which should be available by the time this interview is published. I could describe her sound but I think it would be best if she told you in her own words. so without further ado…
Skope: Tell us a little bit about yourself. How did you get into singing?
Mo Blishen: I live in Wellington, New Zealand. My Dad was in a popular big band for over 20 years, and I used to jump on the tour bus with him as a kid. I always wanted to be part of something like that. Dad tried to teach me music but I have never really been able to pick up on the theory (Lazy). Singing was something I could do without really having to put in any hard work. I cut my teeth doing some backing vocals for a heavy rock band, then in a duo, then solo. I had to stop hiding behind people as there wasn't anybody left!
Skope: You have a new album out "Wide Awake And Highly Strung", what's it about?
Mo: Wide awake and highly strung is how my husband, Dave, described me. It fits. The album is my journey through leaving an intense and wrong relationship to finding a loving and right one.
Skope: What kind of sound would you describe your music as?
Mo: Acoustic, pop, jazzy rock :-)
Skope: Are your lyrics from personal experiences or more like storytelling? There seems to be some honesty, at least it feels that way when I listened to your songs.
Mo: Totally personal. I don't seem to be able to write any other way. Funny thing is since I have become happy and settled it's hard to write. The last song I wrote was about my stay in hospital and not getting enough pain relief – not too sure if there is a market there, not like heart break.
Skope: Do you perform live with a band? Who is in the group and who performed on the album?
Mo: ummmm, we don't really perform. It's a bit tricky in Wellington. The music scene is either open mics, for which you would not play as a band, or late night bars that are more about drinking than listening to music. To be honest, I work full time as a nurse and I'm not interested in playing till midnight, then have to drag my sorry arse to work in the morning and focus on not killing people. I suppose we are more of a recorded band than a live one. It all came about because I had some music that I wanted to record but needed people to help me. Crystal Meyers (drums) answered an ad in MusoList. She has a lovely feel and fits the sound. She is also quite quirky. Nik Straugheir (bass), I actually met through a drumming group. His bass lines are very melodic which balances out my strummy guitar. He used to be an undertaker so the humour at practices can get a bit bizarre. On the album I have had a number of folk play lead guitar. This has been a matter of who was around at the time. At the moment Elliot Chao seems to be the guitarist who has lasted the longest. He brings a lot of enthusiasm to what he plays.
Skope: Do you plan to travel/tour to promote your new album? If so, where can people see you?
Mo: Absolutely, but it is a matter of getting all of us in the same room at the same time. The joy of the band is that even if we haven't been together for a while, it all seems to click. Nik and I are thinking of doing some acoustic gigs at the open mics around Wellington to try an sell some cds – otherwise every member of our families will be getting matching cd coaster sets.
Skope: Who are some of your musical influences? Are there any artists that readers might find 'shocking' that you listen to?
Mo: Ha – there is nothing shocking about me. I am very mainstream   with what I listen too. There is an Australian guy who is hanging out in New York at the moment, Fronz Arp. I really enjoy his music. Over the Rhine is good for a nice groove – absolutely love Drunkards Prayer (Spark and Firefly especially).
Skope: Do you write your music or play any instruments yourself?
Mo: I write all my own music, but it is on an open tuned guitar. Which is tricky for telling people what to play and I am useless at jamming with people (people have to jam with me). Luckily, I play with more musically literate people than myself. I am someone who writes by ear and groove. Some of my earlier music was 'written' by using loops from garageband and then singing over the top. The Chocolate Cake Song was written in 15 minutes and the vocals were a one take ramble, but the video is pretty cool.
Skope: Where did you record the record? Are you working with a producer?
Mo: Hindsight is a wonderful thing. Maybe I should have gone to a studio but instead I used a friend of a friend who gave me a 'deal' which turned out to not be such a 'deal' – actually it was a bit disappointing and I am currently getting it remixed and remastered. I also ended up re recording a couple of songs. It was done in bits and pieces at peoples homes, kindergartens and art spaces. I had originally arranged for the release to be the 30th of June, printed invites and sent emails, only to decide that it was not ready to be released as it was. I am now taking my time. I want to be able to listen to it in 5 years time and not cringe. Benni Krueger, from Vangard Mastering is currently working his magic on the tracks.
Skope: Do you have a site where people can find your music?
Mo: Absolutely – www.reverbnation.com/moblishen and www.facebook.com/MoBlishenMusic are a good place to start. Soon to be featured on http://tasmanrecords.com/.
Skope: Any parting words of wisdom?
Mo: There is no point in trying to do things cheaply – they are going to cost what they are going to cost. Also, always find time to have a laugh. Cheers :-)
You should give Mo a listen, she has a few stories to tell us.
By: Douglas Garnett – douglas.garnett@gmail.com  – http://digdugdisaster.com