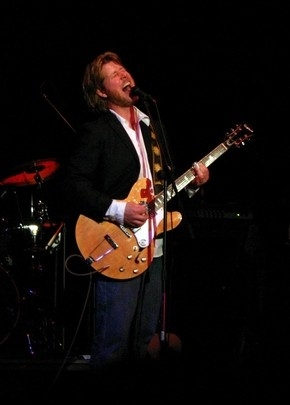 Hello people of planet earth. Before we begin I need to address a disturbing trend going on all over the world which is exactly what played out in the mall in Kenya this weekend. Are people really that cowardice & heartless that you must use automatic weapons on unarmed & innocent people?! My heart breaks for this world and I pray for peace but that is simply not good enough anymore. I also want to take a moment on a celebrity feud between Cher and Miley Cyrus, "Cher realized she should have kept her "opinionated mouth shut" in regards to Miley Cyrus' VMA performance." I hate when celebs trash eachother thru social media and retract it 24 hours later, pathetic. Now finally I can get to the music with a legend Greg Foresman. Greg is riding high not only off his fifth album 'Chautauqua' but his longevity and success in this tough business of music. I am truly honored to have Greg on here and he was so gracious to speak on everything from his new album 'Chautauqua', growing as a musician each album, his favorite guitar to use, and so much more!
Stoli: Where are we talking from today and how was your summer?
Hi ! I'm starting to answer these questions in Lancaster PA. I don't know that I'll still be here when I finish though. I'll be in Baltimore MD. tomorrow . I should definitely be finished by then. My summer's been pretty good -thanks for asking- Just the right amount of busy-ness.
Stoli: How did you learn to play the guitar and how did your friends/family support you in your musical journey?
I started playing guitar at a very young age. 3 years old or something like that. It never was a thing where I felt like I "had" to practice or anything. I just always liked to play and enjoyed the process of working to get better. My parents were pretty supportive from the beginning. My birthday and Christmas presents were always either a new guitar, an amp or some kind of effects pedal. My mother (parents have been divorced since I was 3) always let my bands practice in our basement.
Stoli: Reading your bio I was so impressed at your ambition and passion at such a young age. What do you attribute this amazing trait to and what can parents learn to help with their own kids?
I attribute my passion for playing music from such an early age to an incredible gift from God.   Wow-   I don't know how to answer the parents question. Obviously, if your child shows an interest in Music, Art , athletics, whatever- it should all be supported. You never know what your child is going to become interested in. It should all be supported.   I did NOT come from a musical family. I was the freak.   I do think – as a parent (I have 2 sons- age 15 and 24)   any thing you can do in this day and age to get them away from their computers and T.V.s is a good thing.
Stoli: I have heard your new album 'Chautauqua' and its awesome. How long were you working on that and what other musicians did you bring on to work with?
Thanks so much for your kind words about Chautauqua ! This was an interesting process. Some of the songs on this record ( I still call them records) were written and recorded several years ago but for one reason or another , I didn't put them on "Kodiak" , my last record. Most of the songs though were written and recorded in the last 3 or 4 years. Getting a group of 10 or 11 songs ready to be released is a slow process for me. For one ,I'm out on the road with Martina a fair bit and then even when I'm at home I tend to "wait until the spirit moves me". The Robert Johnson cover, "Crossroads", was just a jam session that me and some friends were having and luckily, the tape was rolling.
 
I also spent a good deal more time (and money) on this record finding the right guy to mix it . I think Bobby Holland and Vance Powell did a wonderful job and Chautauqua sounds remarkably better than any of my previous CDs. Chautauqua is also available on 12″ vinyl at my website.
   
As far as the musicians ; The drummer and bass player from my live band, Aaron Montgomery and Tim Halcomb ,respectively, played on most of the songs. My friend , Tim Grogan played drums on a couple. Jenee Fleenor, a great friend and uber-talented fiddle player – singer songwriter, played fiddle on 2 songs . She splits her time touring with Martina and Blake Shelton.   The horn section that's on Corinna is Steve Hermann on trumpet and Dennis Taylor on saxophone. A couple of Nashville Cats that have toured with Delbert Mclinton and Kenny Chesney , among others. Sadly Dennis Taylor passed away a couple of years ago. I also have to give shout out to Robert Bull . He's Martina's monitor mixer on the road but he's also a very soulful musician. He played keys on a couple of songs.
Stoli: What kind of mood and environment do you have to be in to write music and does the instrumentals or lyrics come first?
I'm not the kind of writer that lights a bunch of candles and tries to get into the songwriting mood. -Not that there's anything wrong with that – For me , you just never know when some music is going to start playing in your head that could turn into something tangible . I love the voice memo app on my iphone because now, I always have a tape recorder with me. Ideas tend to come to me when I'm outside. Mowing the lawn or weeding the garden. I just have to stop, wash my hands and get the idea on tape until I can deal with it. From then on, It's like Tom Waits says, The songs will tell you what they want, you just have to listen to them.
Stoli: Being that this is your 5th album, how do you grow musically each album and what sets this one apart?
It's not easy for me to talk about my own growth. As a musician or as a songwriter. I know that I'm getting better, but still there are some songs on my older records that stand up pretty well. I don't know. Honestly , it's difficult for me to be objective about Chautauqua. I really like it …..still. The thing is, I have to listen to the music so much through-out the process of making it that when I'm done and the CD gets put out, I can't listen to it for a while. I've only listened to it a couple times since it's been out. And I'm usually drunk when I listen to it. So it's really good.
Stoli: Being that you are still young in age, how much do you use technology and social media to get the music to the people?
Sweet of you to say , but I'm not young in age. I've been doing this for a long time. Technology ,I think can be a double edged sword. In the recording process, obviously digital recording has revolutionized the recording process but there are still those of us that harken back to the days of 2 inch tape and the wonderful warmth of that sound.   Technology has allowed people to not have to pay for their music if they don't want to and that………is criminal actually. There's no other word for it. Not much you can do about it I guess. Sorry, I'm sitting here on the bus going off on tangents. I DO use Facebook to promote my gigs and I used it some to promote Chautauqua.
Stoli: What brand guitar is your favorite to use and are you endorsded by certain brands?
We could do a whole interview about guitars!! I currently own around 35 guitars and I want some more. I'm a Gibson and Fender guy for electrics and Gibson and Martin for acoustics. There's a black Fender Stratocaster that you'll see me play a lot. It's not worth a lot of money – it's actually a bunch of parts that were put together many many years ago by a couple of friends of mine. But I've been playing that guitar on stage for coming up on 30 years so it has some value to me. It's really just a great sounding Strat. I also have a red '61 Gibson ES-345 that you'll see me play a lot in my band. I LOVE that guitar. That's the 5th ES-345 that I've had in my life and I've had it for 20 years I guess.   Those are my 2 favorite electrics. I have a really nice old Martin D-35 and a beautiful old Gibson J-45 that are my favorite acoustics.   The rest of the collection includes mostly Gibsons and Fenders with some Danelectros, Silvertones, Custom made instruments. My friend Clint Bear made me a beautiful acoustic guitar.
         
I have to give a shout out to Paul Reed Smith too. I have 4   P.R.S guitars and they are certainly extremely well made instruments. The only relatively new company to compete with Gibson and Fender . Their quality probably surpasses new Gibsons and Fenders but they're up there with the 2 guitar giants when it comes to sales and "cool factor" as well.
Stoli: Your live videos are really cool on Youtube. Do you plan on touring for this album and where will you be playing live?
The videos that are on Youtube are from live shows that we've done. I try and multi-track record live shows AND video tape them whenever possible. I have a bunch of stuff "in the can" that I'm trying to pull together so there will be more live cuts coming.
 
I have to book live shows with my band around Martina's schedule and I guess that can be explored a little bit. The question has been raised, why don't I just make a go at being a solo artist and make that my priority OVER my obligation to Martina Mcbride. The answer to that question is too long to get into really, just know that I'm a very fortunate man. I make a good living playing guitar and traveling around the world with a great , highly respected singer and in between her shows , I get to pursue my own musical adventures. I only tour regionally – Tennessee ,Kentucky, Ohio, A lot in Indiana and , as I said, I have to book my shows when Martina is on hiatus. OR , what I've been having to do lately is book shows with my band – usually 3 or 4 Months in advance- and hope that Martina doesn't book a show on the same day. It's been working out well. I haven't had to cancel any shows in several years.
     
I DO plan on "keeping on keeping on" though. Just keep writing, recording, playing live shows, expanding my territory little by little.
Stoli: You are influenced by Eric Clapton, Van Morrison, and more but what 2-3 bands that are out now are you really enjoying?
New bands that I like, I love Kings Of Leon. Listen to them all the time. I love Mumford & Sons. Minus The Bear I like a lot, Grizzly Bear. My son has turned me on to The Lumineers and Of Monsters and Men. I hate to admit this but we've been listening to the new John Mayer record on the bus and I really like it. It's Folky – Country almost.
Stoli: When you are not playing music what other interests or hobbies do you enjoy?
I just bought a new Motorcycle , A 1971 Triumph Bonneville so that's my new thing I'm excited about.   I DO like to grow things. I'm getting ready to try to grow a Winter garden. My tomatoes and cucumbers did really well this year but my corn didn't do well at all. Besides that , when I'm at home, I'm usually at Percy Warner Park either hiking or riding my bicycle.
Stoli: You have worked with various bands and you are Martina McBride's "go-to guy." What made you want to step out solo and what do you like most of being a solo artist?
This is a good question. I actually started my band before I got the Martina gig. But for years before that I played with club bands – just as the guitar player. Being "just the guitar player" was the spot that I was born to hold down. I never really wanted to be a lead singer or front man. But early on, I started writing songs and after many years of having to deal with lead singers that weren't really on the same page as me , I just decided to sing my own songs – for better or worse- . It took a good long while for me to get comfortable in the lead singer role , but I think I've found my little niche .
       
I do still enjoy being "just the guitar player" from time to time.In a way, I think I have the best of both worlds.
Stoli: What is coming up for Greg Foresman and where you and the album @ online?
Well I think that's about it. Thanks for your time. I hope I wasn't too wordy. My website, www.gregforesman.com will point you to my music whether you want an actual CD (available at www.cdbaby.com) or digital download (available at itunes and most other download sites ) or you want to really be HIP and buy the vinyl version of Chautauqua. My show schedule is also at my website. it's a little thin for the next couple of Months but it'll pick up.