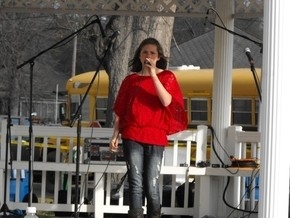 Cheridy has been writing and singing since age 3 starting in church and progressing from there.   Cheridy has had many high points in life due to her vocal ability and incredible stage presence.   She is wowing crowds of various sizes when she takes stage and after meeting and becoming friends with one of her idols Miranda Lambert she has learned so much about the art of song writing.   To this day one of her biggest thrills was singing to Miranda one of Miranda's own songs and actually seeing her being moved by Cheridy's performance.  
Cheridy Adams "Lies Lies Lies"
http://k002.kiwi6.com/hotlink/cqru7x73b5/lies_lies_lies.mp3
Cheridy has vowed to donate 20% of the sales of her CD 'Country Girl' Unleashed to Shriners and St Judes when it is released sometime by the end of October.   She is becoming affiliated with authism awareness and hopes to be able to unite with them to help children plagued with authism and bring awareness to the rising numbers and how those involved are affected. She has already raised a significant amount of money for these two charities to date due solely from the sales of her single Country Girl and has recently been asked to be the headliner at a fundraising concert for Arkansas Childrens Hospital and we are becoming affiliated with Autism awareness to help bring lioght to the children and their families that struggle with this terrible disorder. She has been approached by a producer in TN to write songs for the hit series Nashville and her song Country Girl is ranked #42 on XM radio and she is #1 on Reverbnation in the Arklatex.  
LIKE ON FACEBOOK – CLICK HERE!