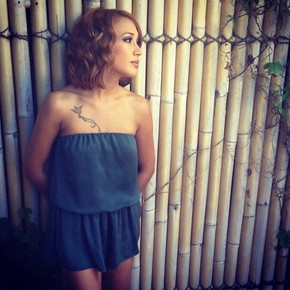 The young, talented and ambitious singer-songwriter HIRIE stirs up island-inspired roots, reggae and pop on her self-titled debut album (Roots Musician Records/VPAL). HIRIE is available this week and has already peaked at #4 on the iTunes Reggae chart. In support of her new release, HIRIE will hit the road across the U.S. from October 11 to November 23 with Tribal Seeds and Fortunate Youth.  
Watch her debut music video for the album's first single "Sensi Boy":
http://youtu.be/KMMjQnb1mYk
"HIRIE is a lifestyle I want people to love and become accustomed to. The island-way of living is contagious; healing the mind, body and spirit. The same goes for its music. When people hear my songs, I want them to feel disconnected from their troubles. Music that brings you to a positive place, that's reggae. Music that lifts you to a higher place: that's HIRIE," the singer reveals.
Purchase her self-titled debut album HIRIE:
https://itunes.apple.com/us/album/hirie/id690358907