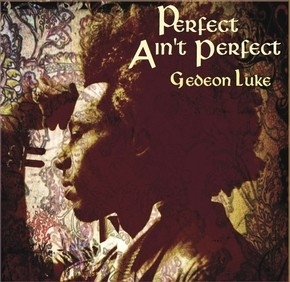 Raised in the infamous projects of Memphis TN, Gedeon Luke found refuge in two things: music and faith. He has since combined the two. Having teamed up with producer Marc Swersky, Luke (still just 24 yrs. old) has released the EP Perfect Ain't Perfect.
Skope recently tracked down Luke to ask a few questions…
What's the meaning behind the EP title?
"Perfect Ain't Perfect" was the name that Team Gedeon came up with during the recording process. We were listening back to one of the songs after we had just finished recording it, and a few of the band members started to scrutinize their own playing. But what they were hearing, I was hearing totally different. They wanted to record the song over, and I said no. Perfect ain't perfect. To me the mistakes, and all of the flaws made the sound Perfect. Thats why I titled the EP "Perfect Ain't Perfect." If you listen to some Rolling Stones, The Beatles, and even some Marvin Gaye, you will hear a lot of flaws in guitar, pitch etc., but that's what actually made the songs great. Even in life, we go through a lot of Pain, but at the same time we have joy also. Life is not always good, but the balance of the good and bad keeps us wanting to get back up again after we fall. Why? Because perfect ain't perfect, but it is !
 
You mention faith as being a primary item in your life, and your voice sounds like it could translate well to a religious venue — Do you have church choir experience?
I was raised in the church. Church was my second home and still is a place I call home. When I was a teen I used to feel differently about church, now as a man I feel transformed by its true meaning. Whereas once I looked at it as a place that dwelled the power of God, and now through knowledge and understanding I know that I am the church and the church is in me. Therefore, Singing in the choir was a way of life, and did indeed teach me a lot physically and spiritually . Now whenever I'm on stage, I'm at home singing to the world, trying to show that we can make the world a better place.
Growing up in Memphis, Tennessee, I was surrounded by a lot of gang violence and drug abuse, and Church was the only place I could go to gain my strength again. That's why singing and writing the way that I do is based strongly on Faith. Just knowing by faith that everything will be Alright in the end is enough for me. Therefore being brought up in church really grounded my understanding of true Love, and being able to express it through song from my soul.
Did you ever have any formal vocal training?
I didn't grow up in a wealthy household. Although I didn't have any formal training, I did listen to a number of artists and learned their songs for years in order to enhance my voice. So, no, I never had vocal training, but I do give credit to all of those that influenced me growing up. I watched their styles, the way they walked and talked, and then I heard their voices. So l learned from the greats.
How exactly would you describe your genre of music?
In the industry today, this is a common question asked. But most commonly a singer would categorize their music under one genre. Well, that's very hard for me to do. I am influenced by Rock, R&B, Pop, Soul, Jazz, Rap, Funk, Country, and so on……but to me it's all one category if it's from the heart. I like to call it Soul !
Am a fan of the guitar work on the EP. Do you have anything to do with that aspect?
All of the work on the EP is inspired by me. I like to choose musicians that I feel would come across onstage and in the studio and work just as hard as me. Eli Menezes recorded all of the main electric guitar on the album, and when we went into the studio I told him to make himself feel at home and to let the spirit of the song carry him. A highlight is the interplay between he and I on the song "Hurting Kind," so moving and fluid! I only play a little guitar, so my calling is not to play the guitar but to know a great player when I hear him.
Do you have any musical heroes? Who would you consider your most prominent influences?
So many I can't count them all. Let's start with Jimi Hendrix, and his adventurous style. James Brown was the greatest entertainer. He was a man that could stand at a mic and murder it. Otis Redding, you just gotta feel his love and pain combination. Ike & Tina, Led Zeppelin, Michael Jackson was just sent from heaven. Prince and him just being cool. The Beatles, their name just speaks for itself. Sam Cooke just takes you on a spiritual trip back to a good ole country church, and Bruce Springsteen is still riding on the clouds. Sly and the Family Stone showed the world real soul, rock 'n' roll, and Marvin Gaye caresses. Al Green and Curtis are my Saturday and Sunday Mornings. Bob Marley was just Bob, the living spirit, and I can go on forever. If it's real music then I was influenced by it.
"Standing On Top Of The World"
http://www.youtube.com/watch?v=He79H8pJcMk
 
How did you recent gigs in the NY area go? Where do you usually tend to perform?
When you come to see "The People," we will indeed give you handicapping, Foot stomping, Unadulterated, Funky and lovely SOUL. Usually the crowd is up on their feet not wanting to take a seat, and ready to dance the night away. At our show we lift up the name of Love. Everyone is at home and feels a part of the party. It's what I call a modern day Spiritual Revival !
Asbury Park is probably my favorite city to perform. They are already ready to get down with some good ole soul. NYC and Philly are my other lovely places, and now we are expanding to perform at other places.
What is your ideal performing venue?
I would love to grow and see a sea full of people at Wembley Stadium, Yankee Stadium and Madison Square, all dancing to the music, clapping their hands and just making LOVE, our religion. That's ideal to me. It really doesn't matter what venue I'm in, as long as there are hungry hearts waiting to get their Souls filled with Love and Rock & Roll.
Does any particular performance stand out as being a favorite?
Whenever I perform I give it my all, but every performance might be different, because the audience might be different, and the time of life might be different. I like to be led by the spirit whenever I'm onstage. Every show counts, so all of the shows are geared to letting love guide the way. All of the shows stand out because there's one thing I can learn from every show.
Anything else you care to add?
Come and join this Revolution of Love , Peace , and Soul with Gedeon Luke & The People.
….All 'revolutionaries' are urged to check out: https://itunes.apple.com/us/album/perfect-aint-perfect-ep/id578702320
Rumor has it Luke might emerge with a full-length album at some point later this year.
Ray Cavanaugh – owleyesgatsby@yahoo.com