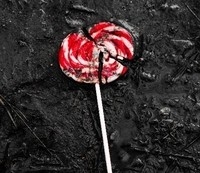 If The Sidleys as a group prove one thing, it's that inspiration can come from the damned of places. The husband and wife team began as lifelong friends, transitioned to partners, then parents. Then they split. Though they continued to work together within their musical career, they would leave to separate residences. Finally, they decided to put their "selves" aside and the couple reunited. The result is a 13-track album that tells their tale, appropriately named Bittersweet.
The album opens to title track, "Bittersweet" and lays down the album ethos straight out of the gate. Immediately you are struck by Annie's lush vocals over backing strum guitar and timekeeping percussion. Backing vocals at the chorus bolster the autobiographical lyrical matter of the track. Strings and keys join the fold on "Burning" and carry the melody just underneath another powerful vocal delivery from Annie. Frantic strum acoustic opens "Hear Me Out" with Steve assuming the vocal lead and Annie supplying backing vox until the two pair at the chorus. The electric shines in this track, driving the track along with Wah pedal effects and intricate fills at the chorus. "The Last Reprise pt.1" illustrates a technical prowess on acoustic while also serving as a brief respite from the soulful, emotive tracks. "Great Unknown" is a synth-laced soulful number; with groove electric, key blasts and even Hip Hop record scratch for good measure. The guitar/vocal interplay at the chorus is a highlight on this one. Tandem acoustic and electric usher in "The Breakdown" before surrendering slightly to Annie's vocal delivery. More harmonized vocals and guitar pop in the chorus with backing horn section on this one.
Autobiographical lyrical matter is nothing new, but I respect the courage and unselfishness it must have taken the Sidleys to share such a personal and painful chapter in their lives and musical career. But, if music as catharsis has a face it has to be Bittersweet. The generous 14-tracks illustrate their musical prowess, individual contributions to the music and again, a strength to address their painful past in song and then share that process with fans. Impressive on all fronts.
Christopher West – cwestlaz@gmail.com
I give this 3.5/5 Skopes.