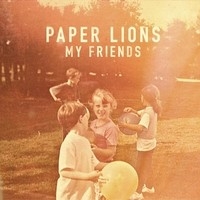 I think most art history majors out there living from Warcraft screen to pop quiz would agree that theres something creepy about Pollock's work at night. Weather that's the WOW delusion happening there or just the marijuana, one can never really be sure. But in any event though a little paranoia can be actually be good for you every now and again. Why? Well art-rock indie LP's for one. And today it seems I'm wigging out to one of the best.
 
Enter The Paper Lions. Four bearded lads outside of Charlottesville Canada coming hot off a Six-year string of sleeper hits such as the massively successful promo video for the 'Traveling', which apparently chalked up so many Youtube views(3.6 million+) that it attracted the attention of big shot indie producer Howard Redekopp of Tegan and Sara and fame culminating into the writing/recording of their newest full length effort, the 10 track jangle-pop opus, My friends. So whats it on about Kale?    
 
Well. Lead singer John MacPhee's explanative yet oh-so drunken articulo is not unlike the hoarse radish chic manneurisms of frontman Wayne Coyne of The Flaming Lips fame, as painfully apparent on bipolar recollection 'Bodies in the Winter.'                                                      
Influences and similarities aside, most immediate(and important) apparatus you have separating the eggs here is the eerily pitch perfect production, such as on the body snatching chimes on 'Ghostwriter', and the two part apparition like harmonies of single 'Philadelphia.' Very odd that actually. Its really something to realize, seeing yourself as so absolutely creeped-out by a composition while just sitting there, waiting for something, anything to go wrong. In which case please see Final Destination 1-4.
 
And the songs on My Friends are all sunshine. Though admittedly not anywhere near as instantaneous or weird as the lips, Paper Lion manage to do quite well with the double duty of syncing lyrics to music wistfully without sounding overfed or underdeveloped. The harmonies here are so deliciously ghostly that its almost as if its mocking you to try and find a better album-in hell. It's a happy medium that's bound to attract the attention of likeminded indie junky fans of Supergrass or the Beach boys. Which, in Paper Lion's case would be quite a good thing seeing as how they are a Canadian based band with US fans making up a majority of their downloading public.
You could do worse than skip out on this album from a band who was formerly named "The Chucky Danger Band", I'll be honest. But Paper Lion's got what it takes to keep you coming back. Better to just push the luck button and save yourself from a terrible, terrible fate. And who would do such a thing?
http://paperlions.com/my-friends
 
By: Robin Kale