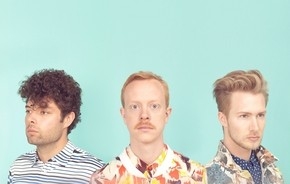 With an impressive track record in their home land Denmark, ranging from "upcoming pick-of-theyear" by the legendary Copenhagen—based venue Vega in 2013, to playing the massive Arena-stage on Roskilde Festival in 2012, the electronic dream pop trio YouYouYou is now ready to release their first official single Trust No One.
Youtube: http://www.youtube.com/watch?v=hvDwb4kVJcE
Recorded in an underground air-raid-shelter, Trust No One is far from earthbound. Evolving from a calm electronic lullaby into a thunderous crescendo of tribal drums, soaring synths and lead-singer Rasmus Poulsen crystal clear voice, the song reveal a band that isn't afraid to reach for the sky, musically. Like their peers in M83, James Blake and The Weekend, YouYouYou combines the vulnerable, heartfelt and melodic, with massive soundscapes, glittering electronics and jaw-breaking beats.