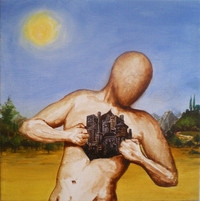 The Gabriel Construct is the brainchild of Maryland resident Gabriel Lucas Riccio, who performs multiple instruments, sings, and, of course, composes.
Riccio is a recent grad of the prestigious Swarthmore College, where he received formal musical training and won a prize for his compositions. Drawing on his rock and classical backgrounds, he perpetrates a form of sound described as "experimental avant-prog."
Now comes Riccio's solo debut album, Interior City, for which he has enlisted a quintet of trusty sidekicks to pitch in on various instruments. The result is a work of harmonic layers, distortion and dissonance, by which Riccio strives to "envelop the listener in a hallucinatory wall of sound."
The track "Arrival in a Distant Land" starts out slow, fragmented, and brooding. Am a fan of the song's latter part, where the singer repeatedly howls: "And I can't get out." Presumably this 'distant land' isn't so visitor-friendly.
If you're ever seeking a wild change of pace mid-song, tune your ears to 0:43 on the track "Ranting Prophet." However you may feel about this piece, you can't say it's mediocre. Lyrically, things are a tad pessimistic: "You are doomed to fight this battle alone."
"Fear of Humanity" would make a good title for a memoir. Here the lyrical pessimism resumes, as our dubious species "[grows] like tumors." Some of the audience may dig the potential environmentalist line: "an endless city where smog obstructs the sky." About halfway through, the song gets pretty raucous; a few moments almost verge on the genre of screamo.
"My Alien Father" makes me think of the X-Files. The piano music here is slightly spooky, almost like something Beethoven would play while approaching a nervous breakdown.  
"Retreat Underground" is different from the preceding tracks in that it gets off to a fast and heavy start.
I really like the intro to "Subway Dwellers." It has this edgy alt-rock sound that conveys a sense of impeding tragedy.
"Inner Sanctum" is a rather wild carnival of sounds. Lyrically, there is no shortage of strangeness: "A half-visible man sits on a chair and talks to me."
"Curing Somatization" sounds like some discontinued form of psychoanalysis.
…That the album's sound quality is stellar should be no surprise; Interior City is engineered by one Garrett Davis, who has worked with such bands as Shinedown.
'I dare you' to try and classify this album: http://thegabrielconstruct.bandcamp.com/
Or visit the creator himself at: http://thegabrielconstruct.com/
 
Ray Cavanaugh – owleyesgatsby@yahoo.com